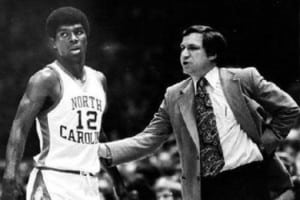 I'll countdown my top ten Dean Smith wins at UNC, leaving out only two types of games, national championship wins, (as obviously those are my favorites) and any game against Duke, which almost demand their own category.
#10:  UNC-Maryland, 1976, at Maryland, UNC won 81-69.    UNC and Maryland were two of the very best teams in the nation that year, in the January game in Chapel Hill, UNC own in overtime, by two points, after trailing most of the game.  UNC was VERY fortunate to win that one, so much, most people figured Maryland would easily win the rematch in College Park.   Well, the game in College Park was never really close, UNC kept a working lead pretty much  the entire game, ended up winning by 12.  A dominating performance, against a very good team.   Those were fairly common  back then.
#9:  1990 NCAA tourney, Oklahoma.  After 8 straight trips to the Final 16 (or further!), UNC was an 8 seed, playing the #1 team in the nation, Oklahoma.    Close game all the way, UNC tied the game on a King Rice foul shot with 8 seconds left, Rice missed the second shot, ball went out-of-bounds off Oklahoma.   Dean called a timeout, and he did many times, drew up a perfect play.   I still remember yelling "it's over," with about 2 seconds left, as Rick Fox was driving to the basket for the game winning shot. The final score:  79-77.
#8:  1997 NCAA tourney, 2nd round, UNC beat Colorado 73-56 to advance to another Final 16.   It was a rather "ordinary" game. However that one gave Dean Smith the all-time wins record, at the time, at  877 victories.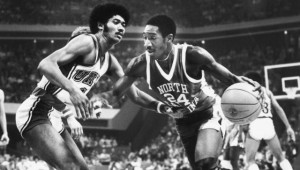 #7:  UNC-UNLV, national Semifinal, 1977.  In the middle of the season, UNC lost Center Tommy LaGarde with a season-ending injury.   In the ACC tournament, Walter Davis injured his hand, was playing with 2 of his fingers taped together in the NCAA tourney.   Phil Ford got injured in their Regional game against Notre Dame, was nowhere close to 100%.  So lead by Mike O'Koren and John Kuester, UNC beat the Running Rebels, 84-83, to advance to the national final.    Another tremendous coaching job by Dean Smith.
#6:   We'll go with a 'group' of games, the 4 Regional games of the 1991 NCAA tournament.  The scores were, in order, 101-66 over Northeastern, 85-69 over Villanova, 93-67 over Eastern Michigan, and 75-72 over Temple.  As you can see, all of the games were routs, except for the last one, which set off a wild celebration.    It had been 9 years since we'd made a Final Four, (we're currently on a 5 year run of not making a Final Four, the longest since that 9 year gap), and I even seem to also remember I was interviewed on Franklin Street after the game, I said something like it had been a long time since we'd made a Final Four!
#5:   Another "group," the 1975 ACC Tournament.  By far, the Best ACC tourney ever.    Maryland had won the regular season title, so with only 2 teams per league going to the NCAA tournament, obviously whoever won the Tourney, (if not Maryland), would also go.    The 6 games in the Tournament had a combined margin of 20 points!   UNC won their first game, in a miracle comeback win over Wake Forest, 101-100, in OT.   They won the semifinal 76-71, also in OT, over Clemson.  I can still remember a last shot by Clemson in regulation rolling around the rim, before falling out.    UNC won the final over NC State, 70-66, lead by freshman Phil Ford.  NC State, as you remember, had David Thompson.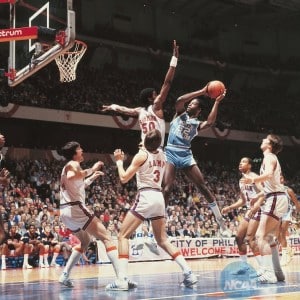 #4:  A single game, I attended this one in person; the 1981 Final Four win over Virginia 78-65.    UNC had lost twice to UVa in the regular season, both very close games, both after being way up.   In the semi, it was relatively close at halftime, then Al Wood took off, putting on an exhibition that ranks as one of the best in Final Four history!  His 39 points in that game still is the record for individual points in a national semifinal game.
#3:  Two games in this one, both involved comebacks, but only one by UNC.    In 1993, I went to the UNC-FSU game with one my friends, good thing we were sitting on opposite sides of the building, and we did not have cell phones, as we may have missed UNC's astounding comeback from a 23-point deficit, including down by 21 in the last 10 minutes.   UNC won 82-77, outscoring FSU 28-4 down the stretch.    The Dean Dome when George Lynch stole the ball and hit the go-ahead dunk is about the loudest I have ever heard the Smith Center.    And back in 1979, UNC was playing at NC State, and it was NC State who came back from a 21 point hole at halftime, to go ahead by 1 late in the game.   UNC missed a shot, NC State had the ball, Clyde Austin was dribbling out the clock, and Dudley Bradley stole the ball, and dunked with 5 seconds left to win the game, 70-69.
#2:  Not sure how many of you are old enough to remember this one, UNC-Davidson, playing in the East Regional Final in 1969.  UNC was behind a good part of the game, caught up to tie with about a minute left, then got the ball on a Davidson turnover.  Charlie Scott hit a jumper at the buzzer to put Carolina in the Final Four.    I was 8 years old, and can remember it like it was yesterday!
#1:  My favorite UNC win, (other than a national title win), by a landslide, UNC over Kentucky, 74-61, in the 1995 Regional Final  In front of a very partial Kentucky crowd, in Birmingham, #1 ranked Kentucky was so sure of a win they'd rented a banquet hall for their post-game victory celebration.  Probably not a good idea when you're going against Rasheed Wallace & Jerry Stackhouse, coached by Dean Smith.   UNC was in control pretty much the entire second half, Stackhouse driving, drawing the D, then passing to Wallace for the game-clinching slam may be my all-time favorite play in UNC history!
No doubt I've left out a lot of amazing UNC games over the years!