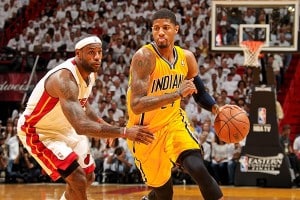 Having established the notable storylines, it is time to make some bold predictions about the upcoming NBA season. For those keeping track at home, that is three preview columns by one writer. Some said it couldn't be done. Is this a case of me going on record and putting my NBA reputation on the line? Is it a way to prove my basketball acumen? Is it a way to fill another week before real basketball begins? Let's just say yes to all of those things. From predicting the MVP to which coach will be fired first, these predictions cover all things NBA. Let us begin.
1. Kevin Durant will win the Most Valuable Player Award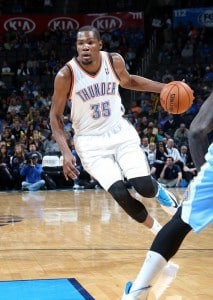 Durant has improved on every aspect of his game since entering the NBA in 2007. I expect him to have another dominant offensive year and lead the league in scoring. Durant will have to carry the Thunder early with Russell Westbrook sidelined for the first 4-6 weeks of the season. During this time, KD will not only be able to put up video game-like numbers, but he will also demonstrate his immense value. While I expect the Thunder to take a step back as a team, I see Durant further elevating his play. Durant will beat out Derrick Rose and LeBron James to win his first career MVP.
2. Kobe Bryant will return by Christmas and average over 24.5 shots per game this season
Three factors influence this prediction. One, Kobe is an insane person who will do and has done anything to get back onto the court. Two, Kobe is 6,770 points behind Kareem Abdul-Jabbar for the most in NBA history. Three, the Lakers will be an average to below-average team this season that will not contend in the West. Add these aspects together and you have Kobe going into pop-a-shot mode upon his return. I see Kobe coming back just over eight months after tearing his Achilles with a focus on making up some serious ground on Kareem's record. It is important to note, however, that Bryant must not only overcome injury and Father Time, but he will also have to physically wrestle the ball out of Nick Young's hands in order to take a shot.
3. Derrick Rose will post better statistics this season than he did in his MVP season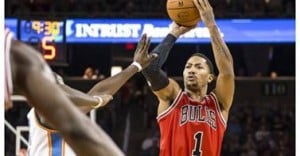 Rose has not played like someone coming back from a serious knee injury this preseason. Rather, he looks like the same explosive talent he was before, with some teammates saying that he looks better than ever. Rose averaged 25 points and 7.7 assists during his MVP season in 2010-11. With an improved jump shot and a new offense that will emphasize transition and speed, look for Rose to end up with better numbers than he had in his MVP season. I am predicting Rose will average 26.5 points and 8 assists per game this season and finish second in MVP voting.
4. Rajon Rondo will be traded
After tearing his ACL in January, Rondo and the Celtics have no set timetable for the star guard's return. However, it is reasonable to assume that Rondo will return before the February 20th trade deadline. By this point in the season, the Celtics will be out of the playoff race and fully embracing a rebuilding project under first year coach Brad Stevens. Thus, I see the Celtics trading Rondo along with Gerald Wallace's horrendous contract to stockpile young talent and draft picks. Watch for Detroit and Sacramento as possible landing spots for Rondo.
5. The 76ers will win twelve games this season
The 1972-73 Philadelphia 76ers finished with a record of 9-73, the worst mark in NBA history. Watch for that notorious record to be threatened by this year's Sixers installment. Looking at Philadelphia's roster brings about a mixture of sadness, anxiety, confusion, and laughter. Evan Turner will be counted on to carry the offensive load. That is all that needs to be said to understand just how bad the Sixers are going to be. The only point of intrigue for Philadelphia will be Nerlens Noel, but he likely won't play until late in the season if at all. Still, I see the Sixers piecing together twelve wins and dodging the record books. This will be fantastically awful to watch.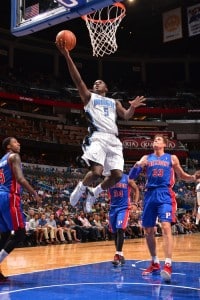 6. Victor Oladipo will win rookie of the year
This year's crop of rookie talent has been lamented for months. No player truly stands out as a "can't miss prospect" and I would argue that there are only a handful of players that will emerge as difference makers from this year's class. One of the players that I do see contributing to his team is Magic guard Victor Oladipo. Oladipo demonstrated tenacious defense and effort in college, two skills that can quickly transfer to the pro level. His jump shot improved during his college career and should continue to get better in the pros. I see Oladipo developing into a defensive stopper while putting respectable offensive numbers and winning rookie of the year.
7. Mike Woodson will be fired by the Knicks during the season
Mike Woodson faces the deadly combination of high expectations and a disjointed roster with the Knicks. Woodson will have to figure out how to put together his lineups quickly if he wants to avoid losing his job. The questions begin in the frontcourt where he will have to figure out how to play Andrea Bargnani, Amare Stoudemire and Metta World Peace with Carmelo Anthony. Anthony was very good offensively when playing at power forward, but it is difficult to play Bargnani or Stoudemire at center or small forward without allowing opponents to score at will. Offensively, Metta World Peace does not provide the necessary spacing for Anthony to thrive at a small-ball four. MWP shot just 34.2 percent from three last season and hoisted nearly six threes per game. I predict the Knicks will struggle early in the season, leading to Woodson being fired as coach.
8. Cleveland will win more than 45 games this season
Cleveland is a fascinating team. There are so many question marks that surround the Cavs that I can make an argument for them winning 25 games and an argument for them winning 45 games. I will predict the 45 win total for several reasons. One, I think Kyrie Irving will stay healthy and continue to develop as one of the NBA's top guards. Two, I believe new coach Mike Brown will bring a much needed defensive mindset to the Cavs. Finally, I see the Cavs getting important production from both Andrew Bynum and Anderson Varejao. If these three things happen, the Cavs will land a playoff spot in the East. This may end up being my most embarrassing prediction by season's end.
9. Anthony Davis will win Defensive Player of the Year
Anthony Davis' rookie season did not go as expected. He missed 18 games due to injury and was not the defensive force that people expected. Davis' timing and spacing when guarding the pick-and-roll was a struggle at the beginning of the year, but he improved his overall defensive game throughout the season. In the preseason, Davis has looked much improved both offensively and defensively. I predict that Davis will continue his dominant play into the regular season and become a defensive force. Davis will average over eleven rebounds and three blocks per game on his way to winning Defensive Player of the Year.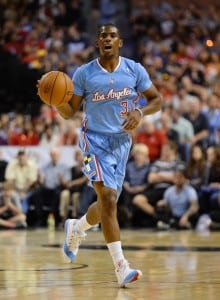 10. The Bulls and Clippers will finish with the best records in their respective conferences
The Bulls have been an excellent regular season team under coach Tom Thibodeau, finishing with the best record in the Eastern Conference two of his three years as coach. The return of Derrick Rose and the familiarity of Chicago's core will propel the Bulls to the top seed in the East. In the West, the Clippers will benefit from the addition of Doc Rivers along with improved outside shooting in the form of Jared Dudley and JJ Redick. The Clippers will score a ton of points offensively and win the West. However, neither will win the title.
Which leads to my final prediction…
11. Indiana will defeat Golden State in the Finals
Golden State had an unexpected and exciting playoff run last season, coming up short against the Spurs in an excellent series. With the addition of Andre Iguodala and a healthy David Lee, I see the Warriors catching fire in the playoffs. The Warriors will defeat the Clippers in the Western Conference Finals to advance. The Pacers pushed the Heat to the brink of elimination last season in the Eastern Conference Finals. I predict a rematch between the same two teams, however, this year the Pacers will capitalize on their size advantage and improved bench to beat the Heat. In the Finals, I think Indiana's size will be too much for  Golden State. Indiana will win the NBA championship with Paul George winning MVP of the Finals.
*Please note that if any of these predictions prove to be incorrect, they will be removed from the record and never discussed again.