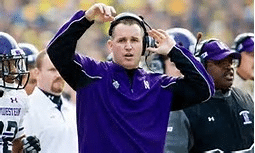 The Northwestern Wildcats have not started a season 4 – 0 since 2013, and had a 10 point lead at home on the Ohio State Buckeyes when the wheels fell off of that season. The Wildcats spent the last two year rebuilding after back to back 5 – 7 seasons and have not made a bowl game since 2012. Head Coach Pat Fitzgerald doesn't want a repeat of 2013 as his team hosted the Minnesota Golden Gophers for their Big Ten opener.
HC Jerry Kill chauffeured his 3 – 1 Gophers to Evanston feeling confident after string together 3 straight wins after losing to #2 TCU at home to start their season. Kill knows his team is more than capable of playing spoiler to the #16 team in the nation as Minnesota has won the last two meeting with Northwestern.
The first half was a defensive battle as one would expect from two teams led by head coaches that preach defense, defense and more defense. Northwestern came into today's game with the 3rd best scoring defense, giving up 8.8 PPG and Minnesota is only giving 18.5 PPG.
The only touchdown scored in the half was set up by a great 55 yard punt return from Miles Sculer, which led to a 5 yard TD run by quarterback Clayton Thorson. The Wildcats took a 10 – 0 lead into the locker room after a dominating performance on the defense side of the ball, as they only allowing 92 yards of total offense.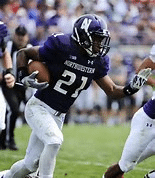 Northwestern running back Justin Jackson has been the work horse for the Wildcats his season as he is averaging over 31 touches per game and the Minnesota game would be no different. Jackson gained 120 yards on 20 carries and added 14 yards on 2 receptions. Whenever the Wildcats offense appeared to be stalling, Jackson would break off a big run to spark his offense.
The second half went exactly like the first with Northwestern suffocating QB Mitch Leidner and the Gopher offense. The Wildcats only gave up 81 total yards of offense in the 2nd half and manhandled Minnesota in all 3 phases of the game.
Leidner's day was concluded after he lost a fumble early on in the 4th quarter that DE Anthony Walker returned for a 13 yard TD. With that defensive score by the Wildcats, the Gophers waved the white flag as they sent out true freshman quarterback Demry Croft to close out the game.
This Wildcat team's success starts with their defense and ends with a solid running game and if Jackson and company can stay healthy, Northwestern has a shot at the Big Ten West crown.
Next week Northwestern travels to Ann Arbor, Michigan to take on Jim Harbaugh and the 4 – 1 Wolverines. The Wolverine have a stout defense of their own so expect a low scoring affair and Northwestern tries to snap a 4 game losing streak against Michigan.
---
@WesEvans24
Northwestern Minnesota