He was too old to Rock'n'Roll but he was too young to die.
– Ian Anderson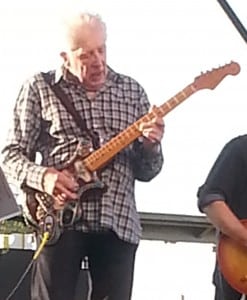 The idea for this column came to me whilst perusing the local concert listings. I spotted upcoming shows for Jefferson Starship, with Paul Kantner and David Freiberg, as well as "Dave Mason's Traffic Jam". Most folks' initial reaction to listings like this would be something like "oh, man, that dude is still alive? I bet that will SUCK!"
Well, your humble scribe is here to tell you that making that assumption can cost you a fantastic concert experience. Just last month, I had the extreme good fortune not only to see and hear (from the front row no less), but to actually meet and shake hands with, British blues legend John Mayall (pictured). John is 80 years old, so I was expecting maybe a killer band (after all this is the guy who started Eric Clapton, Mick Taylor, John McVie, Peter Green and a host of others on their way to fame) and the ability to say I saw him live in concert. Boy was I pleasantly surprised. Not only was he good, he was amazing, displaying right-hand finger-tapping skills on the guitar, a la Eddie Van Halen, as well as playing the harmonica with one hand while playing the keyboard with the other. That's impressive if you're 25 years old, much less 80. The killer band assumption was accurate, as those guys were all virtuosos on their respective instruments as well.
Another recent instance where not going to a show because the artist was old would have been tragic happened about six months ago. I was informed at 6:30 PM that I had won tickets from a local radio station for the Gregg Allman Band show that same night (opening act at 8, Gregg at 9). Again, not expecting much, was blown away. Anyone who has seen the Allman Brothers Band in the last couple of decades will tell you that Gregg doesn't interact with the crowd, looks pissed off the whole time, and generally acts like he's only there for the paycheck. This was completely different, from the moment he walked out on stage smiling and waving to the crowd, I knew I was in for a treat. And a treat it was, this was in a medium-sized club, standing only, and I was able to worm my way to about 30 feet from the stage. Gregg's voice sounded as good (if not better) than ever, he, like Mayall, had a crackerjack band, he performed ABB classics like Melissa, Dreams, and Midnight Rider, it was far more like seeing the Allman Brothers back in the day than a modern-day ABB concert would be. Not only that, but he spoke at length to the audience between songs, it was like hanging out at his house with him. Turned out to be a bucket list night.
I think there are several reasons why these veteran artist concerts can be rewarding. First, you have to consider the fact that these guys have been doing this for, in some cases, 60 years, the old saw "practice makes perfect" certainly applies. Secondly, concerts in general are far more professional than they were back in these artists' heyday, both Gregg and Mayall alluded to the fact that they have been clean and sober for many years. Lastly, these guys by all rights should be retired, the fact that they are out on the road tells you that they love the music and therefore they engage only the finest musicians to accompany them.
Of course there are cases where the "this guy is old, he's gonna suck" theory holds water, all one has to do is look up YouTube videos of recent shows by the Zombies. As we say here in the South, "bless their hearts". But by and large, many of these older artists can still bring it, if you see a listing for a veteran artist, I would advise you to ask your friends, check recent online reviews, look for recent YouTube clips, you may be doing yourself a disservice by not attending a show simply because the performer is "old" without first researching whether or not he/she/they still have it.
Oh, and by the way, Ian Anderson "gets it", the last line of the song is "No, you're never too old to Rock'n'Roll if you're too young to die" and Ian, at age 66, is still touring and putting on terrific shows.
Tim Sanford is a freelance writer and musician. He resides in Charlotte, NC with his wife, daughter and Charlie the Psycho Mutt.