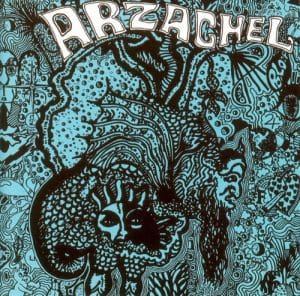 Today the ol' time machine is set for Geoffrey Chaucer's favorite town, Canterbury, England, in the year 1969, smack-dab in the middle of the "Canterbury Scene". The scene was of intertwined bands, consisting of a revolving cast of very talented musicians playing a heady mix of progressive rock, psychedelia, and jazz. The most well-known of these bands were Gong, Caravan, Soft Machine, National Health, and Hatfield and the North, with musicians such as guitarist Steve Hillage, keyboardist Dave Stewart (NOT the Eurythmics guy), drummer/vocalist Robert Wyatt, and vocalist Daevid Allen playing in those and many other bands.
Today's band was originally known as Uriel, and consisted of the aforementioned Mssrs. Hillage and Stewart, along with Mont Campbell on bass and Clive Brooks on drums. Hillage left, and the remaining trio renamed themselves Egg. However, after Egg had signed to Decca records, a small record label offered Uriel the chance to record a psychedelic album, so Hillage re-joined, and an eponymous album under the name Arzachel was recorded, with the band members using pseudonyms as well, so as to avoid legal action from Decca. Our featured song was called "Queen St. Gang" on the original 1969 version of the album and was restored to its original name on the 2007 re-issue of the album, which was called Arzachel Collector's Edition by Uriel. It is a slowed-down, tripped-out, melancholy cover of "Soul Thing" (a.k.a."Funky Fanfare") by famed British composer/arranger Keith Mansfield. So we have a song with TWO aliases recorded by a band with an alias – go figure. The song was also covered by Tony Newman and Paul Raven, with Raven's version even adding lyrics.
Listen to the song and then tell me – did these guys invent Trip Hop/Dubstep? Sure sounds like it to me.