This time on The 3D RadioActivity, we are paying a tribute to Pete Seeger, a member of what is termed the greatest generation, one of the people who lived through the great depression of the 1920's, went to battle in World War Two and then came home to build America to the standards which we are accustomed to in the 21st century.   We will remember with his ballads played by him solo, with others and by others, along with some conversation with some of his friends.
Pete was one of the most beloved, well-respected artists in the history of American folk music. From his interpretations of old traditional melodies to his original sing-along-friendly songs about peace and perseverance, Seeger was one of the best artists to meet the craft. Right up until the end of his life, Pete could be found wherever there was a song to sing, teaching children old folk tunes and learning the ones they had to teach him.  He was not only a great writer, he frequently gave credit by playing and having fun with simple cuts by others.  You might say that he was able to wrap the audience right around his finger while he played his banjo.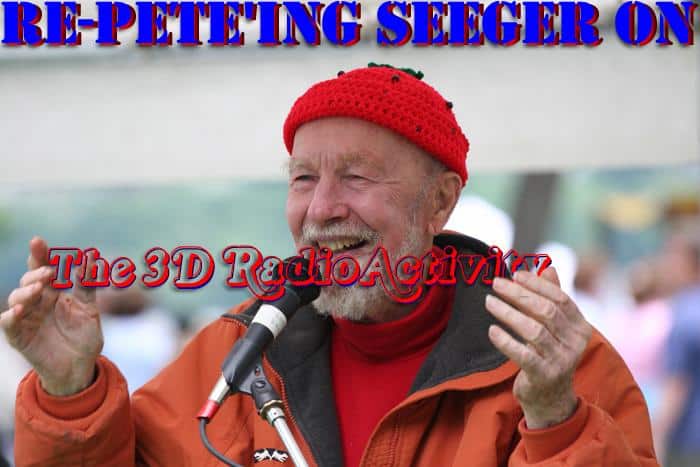 You can easily listen here:
[jwplayer mediaid="12266″]
or download it:
https://archive.org/download/The3dRadioactivity/3dradio_20140209-PeteSeegerTribute.mp3
This has been a great way to start the sixth year of The 3D RadioActivity, I want to thank all of you for tuning in and turning on over the past 250 plus programs, and hope you will continue to do so.  I also hope you will tell your friends too.  Please look for us on Facebook be sure to Like the program and the links to the archives of all the earlier episodes and graphics in the Photos area while you're there,.  Surf over to https://archive.org/details/The3dRadioactivity to easily find all of the earlier programs.
We always like to get more listeners, so make sure to tell your friends about us, and check us out on TuneIn .com, Groovy Radio,  or via InternetFM.
Thanks for tuning in, and be kind to each other.
"Education is When You Read the Fine Print.
Experience is What You Get If You Don't."
~ Pete Seeger
Podcast: Play in new window | Download () | Embed