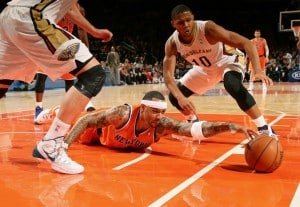 Heading into the season, both the Nets and Knicks were projected to be legitimate contenders in the Eastern Conference. The Nets assembled a starting lineup of veteran all-stars (at a price tag of $82.4 million) to make a run at a championship. The Knicks set out to improve on last year's 54-win season by adding Andrea Bargnani and Metta World Peace. Yet, through a combined 34 games, the Nets and Knicks have a total of eight wins. To put this mark in perspective, the Wizards, Suns and Pelicans each have nine wins. To say that the Knicks and Nets have been disappointments to this point in the season would be an immense understatement. The ever-expanding dumpster fire that has been New York City basketball has left many to question the future of both teams. Let us delve into some of the areas that the individual teams have struggled in to better explain why each team has played so poorly.
The Nets
Slow, hurt and defensively-challenged is not a winning formula. Ask Brooklyn, whose players move at the speed of an elderly gentleman sinking into a warm bath. The Nets pace is the seventh slowest in the league at 94.61 possessions per 48 minutes, per NBA.com. While this pace ranks near the bottom of the league, it is not shocking considering the age of many of their players.  What is alarming is the team's lack of overall speed and athleticism. Between Garnett, Pierce, Lopez and an injured Deron Williams, the Nets often appear to be stuck in quicksand on defense. Joe Johnson has at times shown the athleticism to be an effective defender, but he has never been considered a defensive stopper in his career. Brooklyn's slow foot-speed has left them vulnerable on defensive rotations, allowing their opponents to shoot 40.3% from three-point range this season, the worst mark in the league, per NBA.com.
The Nets have not fared much better on the offensive side of the ball this season. When originally assembled, Brooklyn's starting lineup of Deron Williams, Joe Johnson, Paul Pierce, Kevin Garnett and Brook Lopez had the look of a group that would compliment one another offensively. Williams would run high pick-and-rolls, Pierce and Johnson would run off screens and spot-up for threes, Garnett would float around the mid-range area and Lopez would man the low-post. There was also a belief (at least by this NBA enthusiast) that these players would gel together quickly. This has not been the case. While injuries to Deron Williams, Paul Pierce and Andrei Kirilenko have certainly hurt Brooklyn's offensive efficiency, the Nets have struggled even when their starting five has been able to get on the court together. The Nets starting lineup has a plus/minus of -8.6 per 48 minutes, per NBA.com. This statistic demonstrates that even when the Nets have had their projected unit together, they have still under-performed.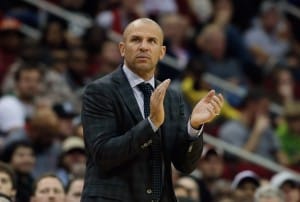 Consequently, first-year coach Jason Kidd has taken much of the blame for Brooklyn's slow start. Kidd has responded by "re-assigning" his lead assistant, Lawrence Frank. Frank was brought in to be Kidd's mentor and to teach Kidd the intricacies of coaching. After Tuesday's move, Frank will no longer be on the bench or at practices for the Nets. Some have called for Kidd's job, pointing out that by the time he has developed as a head coach, the Nets' championship window will have closed. Kidd will have to learn quickly, as it is hard to imagine Nets owner Mikhail Prokhorov tolerating the team's current quality of play for much longer. Luckily for Kidd, he does have an effective strategy for buying himself some time in tough situations.
http://www.youtube.com/watch?v=wAAmRMbsHKs
The Knicks
Miraculously, the Knicks have managed to be even worse than their NYC neighbor. New York has lost nine straight games and their three wins are tied with Milwaukee for the lowest total in the NBA. The Knicks have struggled mightily on defense after losing Tyson Chandler four games into the season. The Knicks defense has allowed 105.4 points per 100 possessions, tied for third worst in the league, per NBA.com. Outside of Carmelo Anthony, Chandler is undoubtedly the Knicks most important player, helping to cover-up for many of the teams defensive shortcomings. Chandler is scheduled to return around Christmas and his presence will help the Knicks defense. Still, New York features too many sub-par defensive players (Ray Felton, J.R. Smith, Amare Stoudamire, Andrea Bargnani) to become a top defensive team when Chandler returns.
One of the biggest differences between this season and last season for New York has been their three-point shooting. Last season, Melo (37.9%), Smith (35.6%) and Felton (36%) all had excellent three-point shooting percentages. The Knicks outside shooting in 2012-13 forced defenses to stay tight on their shooters, creating quality spacing on offense. This season, Melo (27.7%), Smith (29.6%) and Felton (25%) have been ineffective from three. As a result, defenses now crowd the paint against the Knicks, taking away many easy looks for their offense. The Knicks poor perimeter shooting has caused them to give more minutes to Tim Hardaway Jr. and Beno Udrih. While these players have played well in their increased roles, Knicks fans could not have envisioned counting on these players as key cogs in their offense heading into the season.
The Showdown
Thursday's match-up between the Knicks and Nets will garner league-wide attention. Unfortunately for both teams, the game is not being discussed in the way that was expected at the start of the season. Instead of a battle for supremacy between two Eastern Conference contenders, the game will be about which team will be the first to hit rock-bottom. Compounding their struggles is the fact that neither team is in a position to hit the reset button and start fresh. Both teams are saddled with expensive rosters and a lack of draft picks (neither team owns their own first round pick in the upcoming draft). In addition, there are few coveted pieces to trade on either roster. Consequently, both the Nets and Knicks will have to correct their issues internally. A proposition that, at this point, seems dubious.
Prediction- 48 minutes of poorly-played basketball featuring many shots of Jason Kidd and Mike Woodson looking confused.