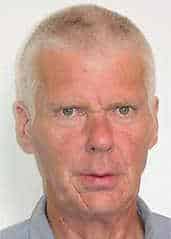 This is one of the unfortunate stories of Rock and Roll.
On June 3, 1983, Jim Gordon, the drummer for Derek and the Dominos, and co-writer of the song "Layla" murdered his mother with a hammer and a butcher knife.
First about Jim. He was a Grammy Award winner and one of the most requested session drummers in the late 1960s and 1970s, recording albums with many well-known musicians of the time, and was the drummer Little Richard, and Delaney & Bonnie.
Gordon began his career in 1963, at age seventeen, backing The Everly Brothers, and went on to become one of the most sought-after recording session drummers in Los Angeles. The protégé of legendary studio drummer Hal Blaine, Gordon performed on many notable recordings in the 1960s, including Pet Sounds by The Beach Boys, Gene Clark with the Gosdin Brothers by Gene Clark, The Notorious Byrd Brothers by The Byrds and the hit "Classical Gas" by Mason Williams.
At the height of his career Gordon was reportedly so busy as a studio musician that he would fly back to Los Angeles from Las Vegas every day to do two or three recording sessions, and then return in time to play the evening show at Caesars Palace.
In 1969 and 1970, Gordon toured as part of the backing band for the group Delaney & Bonnie, which at the time included Eric Clapton. Clapton subsequently took over the group's rhythm section — Gordon, bassist Carl Radle and keyboardist-singer-songwriter Bobby Whitlock. They formed a new band that was later called Derek and the Dominos. The band's first studio work was as the house band for George Harrison's first solo album, the three-disc set All Things Must Pass. Gordon then played on Derek and the Dominos' 1970 double album, Layla and Other Assorted Love Songs, contributing, in addition to his drumming, he played the piano for the title track, "Layla," which he received writing credit for. (He was in the studio playing the piano part for a different song he was writing and Eric Clapton and Duane Allman started jamming to it. They made it part of "Layla". He also played with the band on subsequent U.S. and UK tours. The group split in spring 1971 before they finished recording their second album.
In 1970, Gordon was part of Joe Cocker's Mad Dogs and Englishmen tour and played on Dave Mason's album Alone Together. In 1971, he toured with Traffic and appeared on two of their albums, including The Low Spark of High Heeled Boys. That same year he played on Harry Nilsson's Nilsson Schmilsson album, contributing the drum solo to the track "Jump into the Fire". In 1972, Gordon was part of Frank Zappa's 20-piece "Grand Wazoo" big band tour, and the subsequent 10-piece "Petit Wazoo" band. Perhaps his best-known recording with Zappa is the title track of the 1974 album Apostrophe ('), a jam with Zappa and Tony Duran on guitar and Jack Bruce on bass guitar, for which both Bruce and Gordon received a writing credit. Also in 1974, Gordon played on the majority of tracks on Steely Dan's album Pretzel Logic, including the single "Rikki Don't Lose That Number". He again worked with Chris Hillman of the Byrds as the drummer in the Souther–Hillman–Furay Band from 1973 to 1975. He also played drums on three tracks on Alice Cooper's 1976 album, Alice Cooper Goes to Hell. Gordon was the drummer on the Incredible Bongo Band's Bongo Rock album, released in 1972, and his drum break on the LP's version of "Apache" has been frequently sampled by rap music artists.
Gordon developed schizophrenia and began to hear voices, including those of his mother, which forced him to starve himself and prevented him from sleeping, relaxing or playing drums. In 1983 he attacked his mother with a hammer before fatally stabbing her.
Though at trial the court accepted that Gordon had acute schizophrenia he was not allowed to use an insanity defense because of changes to California law due to the Insanity Defense Reform Act. On 10 July 1984 Gordon was sentenced to 16 years to life in prison. According to the California Department of Corrections and Rehabilitation's website , as of March 2013, James Beck Gordon, prisoner #C89262, age 67, admission date 13 July 1984, is still serving his sentence at the California Medical Facility, a specialist medical and psychiatric prison in Vacaville, California.
Jim was recently up for a parole hearing. He did not show up for it. He has said he is "institutionalized" and has no real desire to get out.