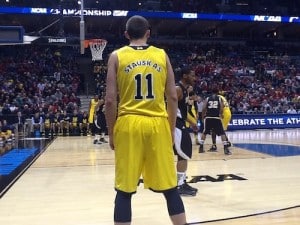 Forget Christmas and the day the kids go back to school. This is one of the two most wonderful days of the year. It used to be New Year's Day and all the Bowl games, but that has been whittled down as the good games are now spread out over the entire week.
That delectable honor now goes to the first two days of March Madness 2014.
I will either find myself glued to the easy chair in front of the big screen TV (and nowadays with tablet and smartphone in tow) or as sometimes happens, I hit the road when the hoops circus comes to town. The NCAA first round, now known as the second round, arrives with hurricane force winds at either Chicago or Milwaukee on a semi regular basis. ESPN gets credit for the staggered start times, and CBS/Turner gets kudos for making every game available on TV and the Internet.
It's never a problem to forgo the multiple screen experience to watch live post season college hoops. NCAA tournament games are one of the few places that still seat more than a handful of media at court side. Given the number of journalists that only focus on one team, a real court side seat can be had if you get lucky. Sometimes we get that. On Thursday I was booked into the 200 section, but I found an unoccupied seat right at the corner of the hardwood, across from the home team's bench in game one.  I wedged myself between a writer for the Arizona Republic and Dianna Russini, (@NBCDianna) an NBC sports anchor from Washington, DC, covering the Eagles.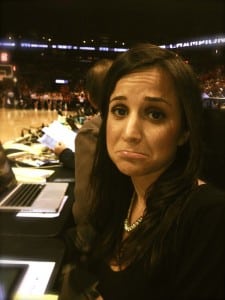 The hometown favorite Wisconsin Badgers used a late first half spurt to pull away from the American University Eagles, and kept padding their lead in the second half en route to an easy 75-35 victory. It was by far the most lopsided win of the day. The men in red shot a blistering 58% from the field in the final twenty minutes. Ben Brust outshone his supremely talented team mate Sam Decker, hitting 4-7 threes, and scoring seventeen points. Guard Traevon Jackson from Westerville, OH added 18 as the Badgers improved to 11-2 in their last 13 tourney openers.
Badgers coach Bo Ryan was asked about the second half blowout in his post game press conference. He replied, "You know, to go on a 40-6 run, no, you can't imagine that. It doesn't usually happen. Our guys took care of each possession and that's what you have to do, whether you're up or down."
About the only thing remarkable regarding the Eagles was that one of their players shot his free throws one-handed.
Only on the hardwood can a duck take down a cougar.
Using speed, agility, and their physicality around the basket, Oregon dismantled Brigham Young 87 to 68. The ducks took advantage of BYU's poor shooting to jump ahead 39-31 at halftime. The Cougars were content to sit back in a zone and let Oregon shoot over them, which they promptly did. Yet, at times, Oregon was still able to feed the ball inside.  Key moment in the game: OU called timeout as BYU cut their lead from 12 points to three with 12:01 left. Smart move, as the Ducks pushed their margin back above ten. With four minutes left it was 83-61 Oregon. BYU kept trying to push the ball up court, but missed too many shots  and follow ups (32.8% FG.) By the time the Cougars shifted to a man to man defense, it was  too late. Oregon sent out its scrubs in with 1:14 to go, up by 23. The Ducks had ten players who logged at least five minutes of court time and were led by Forward Elgin Cook, a red-shirt sophomore playing in his hometown, and netting 23 points.
In the second round, the arena crowd is cleared out after game two, while the media retreat to cover the post game interviews, talk to players in the locker room, or grab a meal.  As usual the NCAA steps up to the plate, literally, with a sit down lunch/dinner (it was before 5 PM after all) of chicken wraps, cheese quesadillas, salad, and soup.  The theme must have been Tex-Mex as they served churros, the popular Latin fried dough, for dessert.
In game three, the closest that the Wafford Terriers got to the Michigan Wolverines was when the two schools were knotted at 4 apiece. Even when the partisan Badger fans, which seemed to comprise about eighty percent of the fans in the Bradley Center, began cheering loudly for Wofford, as they managed to pull within seven with 8:34 to go, it was to no avail. Michigan responded with a 13-4 run of their own to seal the deal in their 57-40 victory. Karl Cochran led all scorers with 17 points in a losing effort. Michigan's super soph Nik Stauskas paced his team with 15 points, including 3 of 6 from three point land.
As you see, the recaps get shorter as the evening progressed. After three games. I'd had enough, knowing full well that the culmination of the day's games would probably be the most closely contested.  Nonetheless, either middle age got the better of me,  or I can rationalize and say the six days out in California that ended Wednesday evening, led to overtiredness, and I headed back to Chicagoland, just in time to see the last ten minutes of Arizona State – Texas.  True to form, the game nearly went to overtime, save for a last second put back by Cameron Ridley of an errant Longhorn shot with no time left on the clock leading to Texas' 87-85 win.
All that action culminates in two #2 vs #7 contests on Saturday.  Michigan and Texas battle at 4:15 CT, and Wisconsin plays host to Oregon, in what will be another hostile Bradley Center crowd.