The White Sox have been trending up, having gone 5-5 in their last ten games entering Tuesday night. While that record over ten games isn't necessarily "trending up" for the contenders in Major League Baseball, it's a good start for the rebuilding White Sox, who entered Tuesday with a 22-42 record. The Sox have been playing good baseball against good teams, winning a three-game series against two MLB powers, in the Boston Red Sox and Milwaukee Brewers.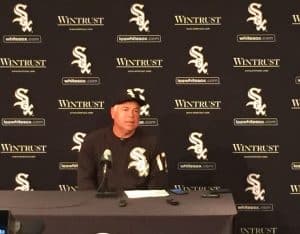 The Sox continued their run of relative success in Tuesday night's win over the division-leading Cleveland Indians, taking the second of a three-game set by a score of 5-1. They have now won five of their last eight and seven of their last 12. They even have the leading vote-getter among AL first basemen in José Abreu.
The White Sox wasted no time getting on the board Tuesday. Yoán Moncada, who had been struggling as of late, led the game off with a home run four pitches into the inning. Yolmer Sánchez followed suit by sending one of his own into the bleachers, and a Matt Davidson double brought home Daniel Palka to extend the lead to 3-0. Indians' starter Adam Plutko was lifted after 4.2 innings of work in which he allowed eight hits, two home runs and five earned runs. The Sox would add two more runs in the fifth inning, but their first-inning outpour would be enough, as James Shields and the White Sox bullpen held Cleveland to only one run all night.
"My body feels really good right now," Shields said following his outing. "Last couple years my body hasn't really been up to par and, no excuses on my part, but at the end of the day my body feels good and I'm working really hard in between starts."
"It's really good to start the game like that," Sánchez said postgame. "I was just looking for a fastball in and be aggressive on the first pitch."
Shields was on, picking up his first win since March 29th in the season opener against Kansas City. More importantly the victory ended a 12-game winless streak. He went seven innings deep, allowing only one run and four hits.  Shields has actually pitched well recently. Tuesday night's performance was Shields's eighth quality start of the season, and he has thrown a 2.57 ERA in his last five home starts. Shields's shortcomings have been mostly out of his control, with run support being an issue for most of the season. Tuesday night's win was the first time Shields has received five or more runs of support since April 5th. He has excelled at eating up innings, as Tuesday marked his tenth consecutive start of throwing at least six innings pitched. His starts have reduced the stress of the bullpen, a unit that has tossed 21.2 consecutive scoreless innings and has a 1.75 ERA in June.
"It feels good," Shields said on collecting an elusive win. "I mean, the boys came out swinging it early, get me a couple runs there… It definitely gave me a lot of confidence to attack the zone tonight against a really good lineup, so it was a good overall win."
"We really needed him, obviously, to kind of get us those last few outs in the seventh," manager Rick Renteria said. "This is a pretty tough lineup and we needed to be able to have some ability to maneuver and he did, he gave us that ability."
The White Sox have shown positive signs as of late, having yet to lose a series in June and getting impressive pitching performances from Dylan Covey, Reynaldo Lopez and Carlos Rodón, three young pitchers who could very well be in the rotation of the future. There will most likely be more lows than highs, but such is expected with where the White Sox are in their rebuilding process. Shields is a competitor, and having a veteran arm to lean on and take pressure off pitchers that figure to be such crucial players in the future will be huge in the team's development. Shields might not be part of their long-term plans, but he can affect those plans by replicating nights like Tuesday.
Twitter: @crbevins11
Hear audio from Rick Renteria, James Shields and Yolmer Sánchez.