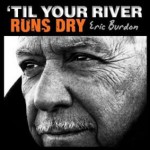 While the world gets ready to get their ya-ya's out over The Stones' 50th Anniversary tour, and the two somewhat lame new tracks they recently released on yet another greatest hits record, another legendary British Invasion hero just released a new album that stands head and shoulders next to much of his material from is glory days with The Animals.
Eric Burdon seemingly all but disappeared from the musical landscape until last year's South By Southwest gathering where Bruce Springsteen talked about the profound influence Burdon had on him during his keynote speech. Later that evening, Burdon joined Springsteen and The E Street Band on stage for a rousing version of "We Gotta Get Out Of This Place" reintroducing him to a new generation of rock fans.
The fact is, Burdon never really went away or stopped performing. Over the years, he's released quite a few solo records and he even reunited and toured with The Animals. Last November he released a limited edition four-song EP on Black Friday Record Store Day backed by The Greenhornes. (The Greenhornes are an Ohio band that has been around for over fifteen years. Two of the band's members are Jack Lawrence and Patrick Keeler who left the group to form The Raconteurs with Brendon Benson and Jack White.)
That record was a patchy appetizer to his first all new record of original material since 2004 called 'Til Your River Runs Dry. Burdon is in fine voice on this solid effort that captures him doing what he does best, meat and potatoes rock 'n' roll. Burdon wrote or co-wrote 10 of the12 tunes here, and at age 71, he sounds positively renewed.
The rockers on this record find Burden at his most Animalesque, especially on the fierce "Old Habits Die Hard" and the album's opener and first single, "Water," which is a hippy diatribe about water conservation.
Burdon has been paying tribute to Bo Diddley since his days in The Animals, and although he never met him in person, there are two salutes to his hero here; one is a fierce and faithful cover of Diddley's "Before You Accuse Me," and the other is a tribute called "Bo Diddley Special" featuring the patented Bo Diddley beat.
Burdon also runs the voodoo down to "Nawlins" with the low down funk of "Devil In Jesus," (today's Song Of  The Day) and "River Is Rising" is a song inspired by Fats Domino's ordeal right after hurricane Katrina when he was thought to be missing. Burdon recorded this track, which he says is one of his favorites on the album, in New Orleans with members of Domino's band.
War is also a central subject on this record. On "Memorial Day," Burdon sings "It's the rich man's war but the poor will pay / Innocence is lost and guilt will fade in time," and "Invitation To The White House" finds Burdon in a dream sequence advising the president to focus on our country before going out and trying to fix the world.
The toll of the rock 'n' roll lifestyle is addressed on "27 Forever," an ode to the "27 club" that includes Jimi Hendrix, Jim Morrison, Janis Joplin, Robert Johnson, Kurt Cobain and Amy Winehouse, who all succumbed at that young age.
Burdon is still a great vocalist whose voice has held up way better than, say Mick Jagger…so roll over Mick, the original Animal is on the loose and back in action.