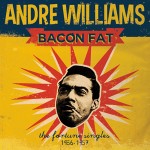 Oh lawd, have moicey…this "Bacon Fat" is show nuff greasy!
I listened to Taj Mahal's 1969 double album Giant Step earlier this week for the piece I wrote on his cover version of "Take A Giant Step." The album also has a version of the song "Bacon Fat" that is credited to J.R. Robertson and Garth Hudson of The Band.
Upon digging deeper, I found out that "Bacon Fat" was originally written by Andre Williams, who scored a top-ten hit with the song in 1956, and the erroneous writing credit probably stems from an arrangement credit they received for the song when they were performing as Levon & The Hawks shortly after they left Ronnie Hawkins and before they joined forces with Bob Dylan.
Williams cut the original "Bacon Fat" for the Fortune record label along with several other hits including "Jail Bait" and "Greasy Chicken." When "Bacon Fat" began to take off on the charts, Fortune leased the record to Epic Records for national distribution and the song climbed all the way to #9 on the singles chart. Contrary to popular belief, "Bacon Fat" is not an ode to clogged arteries or some weird sexual proclivity for food by-products, but rather the "Bacon Fat" of this song is a dance.
Early on, Williams realized he wasn't gifted with a voice as good as other soul singers of the day like Clyde McPhatter or Jackie Wilson, so he began to talk over his records instead of sing. As a result, many people have credited him as "The Father Of Rap" for developing a new style.
Following his stint with Fortune, Williams spent four years working at Motown as a recording artist, arranger and songwriter. Although he did not release any records for the label, he did co-write Stevie Wonder's first hit "Thank You For Loving Me," and "Twine Time," a hit for Alvin Cash and the Crawlers. His best known composition is "Shake A Tail Feather," which became a big hit for Ike & Tina Turner.
After supervising the recording of two albums by Motown group, The Contours, Williams became a roadie for Edwin Starr before signing with Chess Records in 1966. He recorded many great R&B tunes for Chess, although none became big hits. During the 1970s, Williams also wrote for Parliament and Funkadelic.
A long period of drug addiction followed before he was signed to Chicago's Bloodshot Records in 1998 where he recorded records with The Sadies (who were also covered in this column last week for their work with John Doe), Jon Spencer and Two Star Tabernacle (featuring a young Jack White). He was also the subject of a documentary, Agile, Mobile, Hostile that premiered at the 2008 SXSW Film Festival.
Williams released two albums in 2012 on Bloodshot Records and continues to tour around the world today.