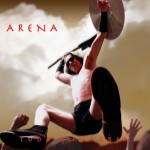 I'm kind of stuck in the middle of a Todd Rundgren jag at the moment. And if you're a Todd fan, there are many reasons to be excited.
With the recent releases of not one, but two new live recordings from a recent tour, each of a classic album: "Todd" (originally released in 1974)and "Healing" (1980), plus the belated appearance of the 1976 Utopia album "Disco Jets," I guess I just can't seem to get enough of that Todd stuff.
It's led me to revisit some albums from his catalog that I haven't heard in a while. Once such album is his 2008 album, "Arena", which, to be honest, I didn't like much when it first came out. Even after seeing him on the tour to support the record, I still didn't get it.
"Arena" was the follow up to "Liars" which was a terrific record that delved into religious themes, and was a musically varied affair with elements of soul, hard rock and several great electronic dance tunes. So when "Arena" appeared, I was disappointed with the simplicity of sound within. But sometimes, you play a record again, and it hits you the right way after the passage of time, and that's what happened to me with "Arena."
The record came about after Todd toured arenas around the world as a member of The New Cars. While becoming the lead singer for The Cars may not have been his best career move, it did reinvigorate him enough to make a record that harked back to some of his best hard-rocking tunes like "Black Mariah" and "Black And White."
The concept of "Arena" was to put out a lit-Bic-in-the-air arena rock record, just like they used to back in the 70s and 80s, and this record is pretty faithful to the sound and feel of the era. All of the songs have simple one-word titles that match the meat and potatoes rock 'n' roll stew cooked up inside. The album is also a one-man show with everything produced on an Apple laptop computer.
On today's Song Of The Day, Todd gets in touch with his inner Robin Trower by showcasing his amazing guitar shredding. Here's a live clip from the "Arena" tour.