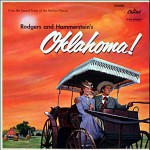 The Broadway version of "Oklahoma!" opened in 1943 and ran 2, 212 performances. With music by Richard Rodgers and Lyrics by Oscar Hammerstein III, the Pulitzer Prize-winning score gave us the standards "Oh What A Beautiful Mornin'," "People Will Say We're In Love," "(Everything's Up To Date In) Kansas City," "The Surrey With The Fringe On Top," "The Farmer And The Cowman" and the hit title song.
The 1955 Academy Award-winning film version starred Gordon MacRae, Shirley Jones, Gloria Grahame, Gene Nelson, Eddie Albert and Charlotte Greenwood. Paul Newman, James Dean and Joanne Woodward all screen-tested for the film and were denied parts.
Here we have a Gene Nelson (as Will Parker)-Gloria Grahame (as Aldo Annie) duet with a great string arrangement and some of the most clever lyrics in the entire musical, opening a window to a sadly, by-gone era of articulate songwriting.