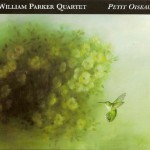 Difficult listening doesn't have to be difficult. It's all about perception, and given the ability to just let it all wash over you with an open mind, difficult listening can be real easy.
Case in point is bassist William Parker's 2007 free jazz album Petit Oiseau. Parker has one of the best working bands in Jazz today. Along with longtime percussionist Hamid Drake, Parker acts as the catalyst of The William Parker Quartet, driving the proceedings with his percussive approach to the double bass and sustaining the tension between saxophonist Rob Brown's sharp tones and trumpeter Lewis Barnes' muted beauty. Even when the band is seemingly going off in different directions (as they often do), there's a potent and powerful force of unity that keeps the proceedings together, making the material on this album drive like mad.
Parker was influenced by such free jazz disciples as Albert Ayler, Ornette Coleman and Cecil Taylor. Coming up, he studied with well-known bassists Jimmy Garrison, Richard Davis and Wilbur Ware, and was Cecil Taylor's go-to bassist during the late seventies and throughout the 1980s, where his percussive style of playing fit right in with Taylor's exploratory ways on the piano.
Parker provides the heart beat to the New York City lower east side Improvisers' Collective, which he formed with his wife, dancer Patricia Nicholson. Together they've presented the Vision Festival — kind of like a Pitchfork Music Festival for all things free and experimental — since the early 1990s. Artists who have performed over the years at the annual June festival include David S. Ware, Sam Rivers, Frank Lowe, William Parker, Hamid Drake, Nicole Mitchell, Rob Brown, Kidd Jordan, Henry Grimes, Marc Ribot, Chad Taylor, Rashied Ali, Joe McPhee, Fred Anderson, Matthew Shipp, Billy Bang, Roscoe Mitchell, Steve Lacy, Yo La Tengo, Cat Power and numerous others. Parker also leads a big band called Little Huey Creative Orchestra.
Today's Song Of The Day is one of Parker's shorter compositions, from an album that is not so far out as to be off-putting – just right for the novice just getting interested in this groundbreaking artist.