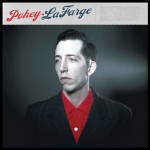 Everything old is new again…and while it seems the world has gone apeshit over supposed wood and string groups like The Lumineers and Mumford & Sons, Pokey Lafarge is the genuine real deal.
As a youth growing up in Illinois, Pokey Lafarge (real name Andrew Heissler) mixed his interest in history and the literature of John Steinbeck and Ernest Hemingway with a love for blues, swing and old-time bluegrass music by the likes of Bill Monroe & The Blue Grass Boys, Milton Brown & his Musical Brownies, The Mississippi Sheiks, The Skillet Lickers, Carolina Tar Heels, Howlin Wolf and Jimmie Rodgers, coming up with a sound that was a total throwback to a long-gone and forgotten musical era.
After two albums on his own, Lafarge formed The South City Three in 2009 featuring Joey Glynn on upright bass, Ryan Koenig on drums and harmonica and Adam Hoskins on guitars. Lafarge plays guitars and tenor banjo, and all of the band members sing background vocals. The band is also augmented by TJ Muller on coronet and Chloe Feoranzo on clarinet.
The group favors vintage instruments and microphones to capture their old-timey amalgam of early jazz, string ragtime, country blues and western swing. Today's Song Of The Day comes from his latest eponymously titled album which was produced by Ketch Secor of Old Crow Medicine Show, and released on Jack White's Third Man Records.
Lafarge has won two consecutive Independent Music Awards for his albums Middle Of Everywhere (2011) and Riverboat Soul (2010), and his music has been featured in the HBO series Boardwalk Empire. Pokey plays a 1946 Epiphone Spartan Archtop, a 1956 Silvertone Parlor, and a 2012 Hamm-tone Archtop guitar.