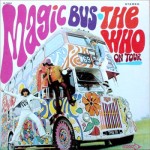 Psychedelic Ox from an album reviled by the band, but truly loved by fans.
Today's Song Of The Day was originally a 1968 B-side written by Who bassist John Entwistle.  The song ended up on the album "Magic Bus: The Who On Tour", which contrary to its title was not a live recording, but a compilation of studio off tracks from other releases. The 1968 album, which was compiled for American and Canadian markets only, included tracks from EPs (primarily the 1966 EP, "Ready Steady Who") and stray singles, with a dash of a few already available cuts from the group's first two albums.
While the group didn't approve of the album at all, North American fans who grew up listening to the Who cherish the tune stack and album's highly listenable sequence. When the group posed for the bus photo that was used on the cover, they had no idea that the photo would end up being the cover of their next American album release. Sadly, the album has been out of print in the U.S. since the early '90s, with its tracks either released as bonus tracks to the CD version of the "A Quick One" album, or returned to the original albums from where they came from.
Some of Pete's greatest songs are on this album, especially "Disguises" and "Run, Run, Run" (from the "Happy Jack" album), plus "Pictures Of Lily," "Call Me Lightning" and, of course, the album's title track. And two of Entwistle's greatest songs are also here, including "Boris The Spider," which was written after a night out drinking at a bar with Bill Wyman of the Rolling Stones, and today's Song Of The Day, "Dr. Jekyll and Mr. Hyde," which gives Sid Barrett-era Pink Floyd a run for its money in the Psychedelia department.
"Magic Bus: The Who On Tour" is one of many albums that make up the sub-genre of rock era records, that were compiled for U.S. markets only, and don't exist in the artist's country of origin. And there are numerous examples including "Yesterday And Today"," The Early Beatles" and "The Beatles' Second Album" by The Beatles, "Meaty, Beaty, Big And Bouncy" and "Odds And Sods" also by The Who, "Kink-Size" and "Kinkdom" by The Kinks, "England's Newest Hitmakers," "December's Children (And Everybody's)" and "Flowers" by The Rolling Stones, "Black Market Clash" by The Clash, "Taking Liberties" by Elvis Costello and many others.
I've named a few, now you name the rest…