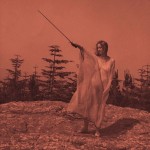 Out of the murky haze of gauze- encased melodies and tranquilized, processed vocals arrives the second album from Unknown Mortal Orchestra, cleverly titled II.
UMO is the brain child of Ruban Nielson, formally of the band Mint Chicks, who counts artists as diverse as Captain Beefheart and Sly Stone as major influences. Their muffled sound is an amalgam of neo-psychedelic acts like MGMT, Ween, Apples In Stereo and Ariel Pink's Haunted Graffiti, coming off like an updated Sid Barrett-era Pink Floyd. However, their totally unique angular melodies set this group apart from all the rest.
It all began in June of 2010, when Nielson anonymously uploaded his song "Ffuny Ffriends" onto Bandcamp (a website that helps bands sell their music and merchandise directly to fans). The song garnered frenzied interest partly because it was uploaded anonymously. The buzz led to Nielson claiming the song under the name Unknown Mortal Orchestra. The eponymously titled debut album that followed on Fat Possum Records was one of the best albums of 2011, proving the hype generated by the song was no fluke.
Today's song of the day opens their second album, and builds on a rhythmic pattern dictated by the opening vocal line delivered via Nielson's filtered falsetto, "Isolation can put a gun in your hand…" The lovely delivery of the lyric belies the acidic desperation that lies at its core. The pattern is then fortified when the guitar, bass and drums kick in to establish the shuffled feel of the track.
It is followed by the album's first single "Swim and Sleep (Like A Shark)," the soulful "So Good At Being In Trouble," the Princely "One At A Time," and mind-addled confections like "The Opposite Of Afternoon" and "No Need For A Leader," creating a sonic sequence that is both mind numbing and alluring.
The album looses a little steam when it hits a bit of a dry patch with the wonky "Monki" and the atmospheric instrumental "Dawn," where the songs cave under the weight of the production, but the record recovers during the home stretch with "Faded In The Morning" and "Secret Xtians" (Christians).
While not as melodically satisfying as the debut album, Unknown Mortal Orchestra's second helping is a record that will reward upon multiple spins.