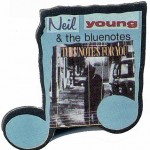 After going electronic on Trans, country and western on Old Ways, and then turning himself into a rockabilly cat with The Shocking Pinks, what else could Neil Young have had in store for fans whose patience was beginning to wear thin as the 1980s drew to a close?
Soul man!
In 1988, Neil Young put together a soulful horn band called The Bluenotes and recorded the album This Note's For You. The album was seen as a return to form after a string of patchy genre-hopping releases for Geffen Records, and it was also his first release back on the Reprise label. The band consisted of Neil Young on vocals and guitar, Chad Cromwell on drums, Rick Rosas on bass, Frank Sampedro on keyboards, Steve Lawrence on lead tenor saxophone, Ben Keith on alto saxophone, Larry Cragg on baritone saxophone, Claude Cailliet on trombone, John Fumo on trumpet and Tom Bray also on trumpet, and the sound was pure electrifying rhythm, blues and soul.
The record stands as one of many dark horses within Young's catalog that fans either didn't understand, or just outright didn't like. However, it is a solid collection of sturdy rhythm and blues-based tunes including the highlights "Coupe de Ville," "Ten Men Workin'," "Life In The City," "Twilight" and "One Thing."
Today's Song Of The Day was not actually on the album. It was released as the B-side to the record's first single "Ten Men Workin'," but it's such a great track that it should not be ignored. I've chosen a video of Neil performing the tune with The Bluenotes from the Agora in Cleveland, Ohio on 4/23/88. In it, you get a real sense of the intensity of the shows on this tour with Neil wailing on the harmonica and then manically ripping into guitar fills as the band keeps things wildly swinging.
Several other tracks from the sessions also did not make the final album including "Ordinary People," which runs a full 18 minutes long and was subsequently released in 2007 on Young's Chrome Dreams II album, and "Sixty To Zero" which was subsequently released in edited form (from 20 minutes to 12 minutes) as "Crime In The City" on Neil's 1989 Freedom album.
The album centered on the concept of crass commercialism in rock music, and the lead-off video for the title track caused much controversy for its depiction of artists whom Young deemed as commercial sellouts. Neil didn't do any favors for MTV as he derided their many sponsors by plainly singing "Ain't singin' for Pepsi / Ain't singin' for Coke / I don't sing for nobody / Makes me look like a joke / Ain't singin' for Miller / Don't sing for Bud…"
The Julien Temple directed video was initially banned by MTV who feared lawsuits from the artists who were depicted and then mocked, but the network did an abrupt turnaround when it began to garner press and added it back into heavy rotation on their playlists. It ended up winning the MTV Video Of The Year Award in 1989.
Young and The Bluenotes took to the road after its release and played numerous small club dates. I had the pleasure of catching their act at the now-defunct New York City club, The World.
After the album's release, Young was successfully sued by Harold Melvin (of Harold Melvin & The Blue Notes) for use of the Bluenotes name. Subsequently the group was billed as Neil Young & Ten Men Workin' (after the album's lead-off track).
Word has it that Young worked up a fine live album from the Bluenotes dates called Blue Note Cafe, but like many great Neil Young projects, it's sitting in the vaults awaiting release, however several songs from the album turned up on the Neil Young compilation Lucky Thirteen. It sure would be great for Young to take the album, all of the B-sides, the tracks that ended up on different albums and the live Blue Note Café recordings and release them all together. But for an artist as mercurial as Neil Young, that's asking way too much…