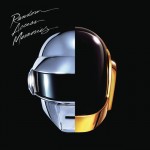 So Daft Punk has released a straight-up '70s Disco album and everybody is going nuts.
Daft Punk fans are going nuts because there are real instruments and, gasp, real voices on this record. Critics are going nuts because the group has made a '70s disco album, and a '70s disco album stands out because it's the antithesis of the loud-soft dynamic of today's EDM. This gives critics something to write about, which in turn makes them excited, resulting in amazingly positive reviews. Mind you, these are some of the same critics who back in the '70s, wouldn't have been caught dead listening to a disco record.
That said, although Random Access Memories is indeed a departure for Daft Punk, the '70s disco left turn works well for them. Under all of the vocodered voices and electronic rhythms, the songs really have heart and emotion. It's the clash of heart and transistors that is the key to this record, and you really can't beat the rhythm section of Nathan East on bass and Omar Hakim on drums laying the groundwork for the guitar dynamics of Nile Rodgers funky-Chic style combined with the lighter, jazzier leanings of Paul Jackson Jr.
The record's power will be in its ability to blend generations of fans, appealing to today's dance music aficionado and the disco generation alike. This is probably why the record will end up not only being a multi-hit, multi format smash, but also one of the biggest records of the summer.
Nile Rodgers' fingerprints are all over several of the album's best tracks including the album's lead-off track "Give Life Back To The Music," "Get Lucky, which is sitting at the #4 position of the pop charts this week, and today's Song Of The Day, "Lose Yourself To Dance," which no doubt will also climb the charts in weeks to come. (Note: "Lose Yourself To Dance" and "Get Lucky" feature vocals from producer and Neptunes' member Pharrell Williams.) The influence the man behind "Le Freak" and dozens of other Chic hits from the '70s and early '80s brings to this album humanizes Daft Punk's mechanistic sound, as it harkens back to the production sheen he provided for David Bowie's Let's Dance.
Along with "Get Lucky" and "Lose Yourself To Dance," the album's centerpiece is clearly the Broadway disco showcase, "Touch," featuring the dramatic vocals of Paul Williams. The song begins as a dark ruminating electronic soundscape and then bursts alive into Technicolor disco with Williams' dramatic vocals. I can see this track crossing over big time and sending this album into the stratosphere.
"Georgio By Moroder" pays homage to the disco producer behind Donna Summer's "I Feel Love," with a nine minute moto-disco track that features Moroder talking about his craft over the music. Other cameos include Julian Casablancas, whose co-written track "Instant Crush" is not too different than the direction The Strokes have taken on their latest record, except that his collaboration with Daft Punk has a great hook which is something his own band has been lacking for a while. Elsewhere, Panda Bear lends a Beach Boy's flavored vocal to "Doin' It Right."
I had the pleasure of seeing Daft Punk at Lollapalooza several years ago, and at the time their act relied heavily on spectacle more than songs. That's not a slam. I love dance music and have for many years, but their live presentation was amazing, sending the audience into a literal frenzy. (I should know, I was up front for a good portion of their set and it was a crush.) Musically however, they were sonically closer to Kraftwerk than Giorgio Moroder or Nile Rodgers.
So who cares if the French duo of Guy-Manuel de Homem-Christo and Thomas Bangalter have a penchant for wearing robot disguises and appearing before audiences in a pod, their new musical direction has resulted in a record for the ages from this group, and one I'll be coming back to again and again.