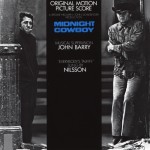 Not only is today's Song Of The Day perhaps one of the greatest movie themes of all time, it is also from one of the greatest films of the 1960s.
The 1969 film Midnight Cowboy was based on the 1965 novel of the same name by James Leo Herlihy. The movie starred Dustin Hoffman and Jon Voight (in his film debut) and was directed by John Schelsiinger. It won three Academy Awards including Best Picture, Best Director and Best Adapted Screenplay. When it was originally released, it was given an X rating, so it also holds the distinction of being the only X-rated film to ever win an Academy Award for Best Picture.
The hit theme from the movie was written by John Barry who also composed eleven soundtracks for James Bond films between 1963 and 1987 as well as the famous "James Bond Theme" from Dr. No, the first Bond film. He also wrote the award winning scores to the films Dances With Wolves and Out Of Africa as well as the scores for The Lion in Winter, Born Free, and Somewhere in Time. Barry won a Grammy Award for Best Instrumental Theme for today's Song Of The Day as well.
The film also included the hit version of Fred Neil's "Everybody's Talkin'" which was performed by Harry Nilsson, who also took home a Grammy for Best Male Pop Vocal Performance. Nilsson's "I Guess The Lord Must Be In New York City" and Randy Newman's "Cowboy" were also considered for the film but never used. The soundtrack included songs by Randy Newman, Harry Nilsson and Elephant's Memory, plus a song called "He Quit Me" which was performed by Lesley Miller and written by a then-unknown Warren Zevon.
The song starts off with a mournful harmonica solo, played by Toots Thielman in the film and Tommy Reilly on the soundtrack with a light rock backing, and culminates with a majestic full orchestral crescendo. It is far superior to the hit version that was recorded by twin piano duo Ferrante & Teicher, who brought it into the top ten of the charts in 1969.