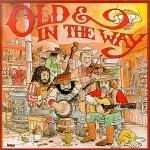 When not playing with The Grateful Dead, Jerry Garcia liked to dabble in side projects including stints with his own Jerry Garcia Band, The New Riders Of The Purple Sage, gigging with Merle Saunders, recording with John Wales and guesting on albums by the likes of Ornette Coleman, David Bromberg, Brewer And Shipley, Bob Dylan, CSN&Y, Jefferson Airplane and many others.
But Garcia was also a member of a bona-fide "supergroup."
When most people hear the term "supergroup," bands like Cream, Blind Faith, Derek & The Dominos, CSN&Y and The Traveling Wilbury's come to mind.
Garcia's supergroup was Old & In The Way, a bluegrass collective of great pedigree featuring Jerry Garcia on banjo and vocals, David Grisman on mandolin, Peter Rowan on guitar, Vassar Clements on fiddle and John Kahn on bass. (John Hartford sat in with the band before Clements came on board.)
Rowan and Grisman played together with ex-Byrd Clarence White in the bluegrass group Muleskinner, and also in the group Earth Opera.  Grisman also played with The Even Dozen Jug Band and guested on The Grateful Dead's American Beauty album. Rowan and Clements were members of Bill Monroe's Bluegrass Boys, and John Kahn played with Muleskinner, Howard Wales and Garcia.
Garcia formed Old & In The Way in 1973 as a vehicle to play bluegrass banjo. The group grew out of living room jams between Garcia, Grisman and Rowan who all lived near each other in Marin County, California. Together they would gig around locally with John Kahn in tow and John Hartford on fiddle. After Hartford could not commit to a tour, the group called on Vassar Clements to take his place.
They were together for a total of nine months, and the Old & In The Way album was recorded in October of 1973 in front of an audience at The Boarding House in San Francisco, where most of the group's discography was recorded.
Their one-off eponymously titled album was subsequently released on The Grateful Dead's Round record label in 1975 featuring today's Song Of the Day, which was penned by Peter Rowan. The album also included their bluegrass cover of The Rolling Stones' "Wild Horses," a version of the Peter Rowan-penned New Riders' tune "Panama Red," and traditional tunes like the Delmore Brothers' "Pig In A Pen" and Carter Stanley's "White Dove."
With great harmonies and instrumental interplay, Old & In The Way's old timey, good-feeling vibe struck a chord with Grateful Dead heads, making it one of the best selling bluegrass albums of all time. And indeed, several songs from the album have gone on to become standards of the Bluegrass repertoire including today's Song Of The Day, "Wild Horses" and the album's title track, "Old & In The Way."
Garcia continued to record numerous records with David Grisman, including Not For Kids Only, one of the greatest children's albums of all time, and two Old & In The Way albums were subsequently released featuring live recordings from the same gigs after Jerry Garcia's death.