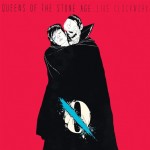 Song Of The Day by Eric Berman – "My God Is The Sun" by Queens Of The Stone Age
I wrote about Queen's Of The Stone Age's latest album …Like Clockwork several weeks ago proclaiming it as one of the best of the year, and I've been playing it incessantly since its release. There are so many great tracks on this album, that I've chosen another song to run with my original piece. I am very much looking forward to seeing QOTSA's set next weekend at Lollapalooza…
Great modern classic "rawk" records:
Superunknown by Soundgarden, "The Black Album" by Metallica, Nevermind by Nirvana, Mellon Collie by Smashing Pumpkins, Blood Sugar Sex Magic by Red Hot Chili Peppers, Icky Thump by White Stripes, American Idiot by Green Day, All That You Can't Leave Behind by U2, Kid A by Radiohead, A Ghost Is Born by Wilco, Funeral by Arcade Fire, Bothers by The Black Keys and even Rated R by Queens Of The Stone Age — Each group is closely defined by their lead singers, and each lead singer has a classic, unique sound of their own.
One of the best rock albums to come down the pike in recent memory is …Like Clockwork by Queens Of The Stone Age. The album is certainly one of the best albums to come out this year, a year that already includes exceptional records like Random Access Memory by Daft Punk, II by Unknown Mortal Orchestra, We Are the 21st Century Ambassadors of Peace & Magic by Foxygen, The Terror by Flaming Lips, Mosquito by Yeah Yeah Yeahs, Wonderful Glorious by Eels, The Next Day by David Bowie and The 20/20 Experience by Justin Timberlake.
Up until now, QOTSA's signature record was Rated R, an album they've spent the rest of their career up trying to top in vain. With Homme back at the helm, QOTSA have made their defining album, an album many never thought they had in them, and an album that not coincidentally, topped the U.S. charts in its first week of release.
The backstory includes a 13-day hospital stay for Josh Homme who was recovering from severe complications of routine knee surgery that saw him almost die. The event sent Homme into a four month tailspin of depression and recuperation.
The band, featuring Josh Homme on vocals and guitar, Troy Van Leeuwen on guitar, Dean Fertita on keyboards, Michael Shuman on bass and Joey Castillo on drums, picked up the pieces in 2011, reissued its debut album and toured behind the reissue playing it in its entirety on stage every night,  gaining Homme the inspiration to begin recording …Like Clockwork.
Dave Grohl, who had played drums on Songs For The Deaf returned to the fold to replace longtime drummer Joey Castillo, whom Homme fired during the sessions. Other returning members included bassists Nick Oliveri and Alain Johannes, and vocalist Mark Lanegan.
Several special guest vocalists also turn up on the album including Elton John who contributed vocals to "Fairweather Friends" (which was co-written by Mark Lanegan of Screaming Trees), Trent Reznor (of Nine Inch Nails) lent his vocals on "Kalopsia" which is one of the group's all-time great ballads featuring a lead vocal reminiscent of Adrian Belew in full-on "Matte Kudesai"/King Crimson mode, and Jake Shears of Scissor Sisters on "Keep Your Eyes Peeled."
And the album is chock full of classic sounding rock goodies including "I Sat By The Ocean," which features a "…like clockwork" precision backbeat courtesy of Joey Castillo, the quasi-psychedelic stoner sludge opener "Keep Your Eyes Peeled," and the riff-happy "My God Is The Sun."
Josh Homme is one of the greatest voices in rock music today. (Think David Bowie, Soundgarden's Chris Cornell and Adrian Belew for starters.) And with their latest album, QOTSA have not only created what will easily be one of the best records of the year, but also one for the ages, right up there with the list of albums at the top of this article.