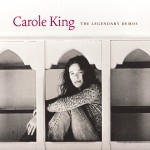 You know you're really talented when you can write a song as great as "Pleasant Valley Sunday," and then give it away for someone else to record. In this case, the lucky recipients were The Monkees, who recorded the song for their "Pisces, Aquarius, Capricorn and Jones LTD" album in 1967, and then took the single to the number three position of the charts.
Today's Song Of The Day is Carole King's original demo from 1966. It was released last year on the album "The Legendary Demos," which also features early versions of the songs "Take Good Care Of My Baby" (Bobby Vee), "Crying In The Rain" (The Everly Brothers), "(You Make Me Feel Like) A Natural Woman" (Aretha Franklin), "Like Little Children" (The Knickerbockers) and several tracks that King would record for Tapestry ("Beautiful," "It's Too Late," "Tapestry," "Way Over Yonder," and "You've Got A Friend").
"Pleasant Valley Sunday" is a comment on social stature and suburban life that takes place on a street (Pleasant Valley Way) in upper crust West Orange, New Jersey, where King and her husband, Gerry Goffin, were living at the time. (It's about five minutes away from where my mother lives.) This rough version was probably demoed shortly after it was written, providing the first blush of a finished product. As a result, there's an urgency in King's version that is missing from the Monkees' hit.
The thirteen track collection provides a glimpse into the inner workings of the Brill Building, where songwriters composed songs on demand, and then went directly into the studio to demo them quickly to get them into the hands of a recording artist who would then take them directly to the upper regions of the charts. It's a great look into King's creative process and, especially on the early songs, makes one wonder why she wasn't a solo hit maker way before 1970.