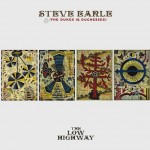 Steve Earle is an American Storyteller, poet and novelist, and his brand new album is certainly his best and most varied since Transcendental Blues, which came out almost 20 years ago.
Recording with his crack live band, The Dukes (& The Duchesses) consisting of Chris Masterson on guitar, Eleanor Whitmore on violin, Kelley Looney on bass, Will Rigby on drums, singer Allison Moorer on piano and Siobhan Kennedy on vocals, makes all the difference in the world here. There's electricity that crackles through the grooves on The Low Highway that could only come from a group of musicians who've moved from stage to stage throughout the world living their lives on the road together.
Earle also had the good sense to ditch T. Bone Burnett from the production chair of his last album, in favor of his Twang Trust buddy Ray Kennedy. Burnette's oh so tasteful modus opperandi in the studio smoothed out all of Earle's raw edges until all personality had been sucked out of the recording. What we ended up with, in essence, was Earle's flattest sounding record ever. In contrast, the Twang Trust production sounds alive and crackling with energy.
The Lone Highway opens with the one-two punch of the title ballad, which is a stark travelogue of people and places that quickly fly by the windshield over miles of endless road. It also pretty much lays out this record's statement of purpose – "Travelin' out on the low highway/Three thousand miles to the 'Frisco bay." It is then followed by the blazing rocker "Calico County," with its half-spit lyrics and Stonesy guitar riffs – "Born in a double wide out behind the county dump / Mama never told me why daddy didn't live with us / Only picture I had he's climbin' on a prison bus / Stencil on his back said Calico County." Both songs open the door for the litany of aimless characters that follow.
Throughout Earle shares tales of transient characters with dead end lives moving forward but getting nowhere. "Burnin' It Down" finds a restless character sitting behind the wheel of his car pondering whether to burn the local Wal-Mart down because "Nothin's ever gonna be the same in this town." And the album's first single "Invisible" includes this lyric "I'm taking my time but I ain't slow / 'Cause it ain't like I got anyplace else to go," while "Down The Road, Pt. 2" has a character "Standin' on the highway with the road burnin' through my shoes / Roll over Kerouac and tell Woody Guthrie the news / Heard it said there ain't nothin' ahead but I don't know / Down the road I go."
Three of Highway's tunes come from the HBO series Tremé, in which Earle had a recurring role. In the show, "Is That All You Got?" was performed by violinist/actress Lucia Micarelli with The Red Stick Ramblers, here we have Earle's take on the tune. Micarelli also co-wrote the other two Tremé tunes "Love's Gonna Blow My Way" and "After Mardi Gras." They both had such chemistry on the TV screen, it's a shame we don't get a taste of it on the record.
Alison Moorer's piano drives today's Song Of The Day, "Pocket Full Of Rain," another tale of the down trodden – "Ain't like it's been easy / I been up and down / and lately I can't seem to keep / My chin up off the ground." The song has a straight-from-A-Charlie-Brown-Christmas piano sound and is one of the finest songs Earle has ever committed to vinyl.
"Warren Hellman's Banjo" is a bluegrass homage to the founder of the Hardly Strictly Bluegrass festival in San Francisco, and elsewhere, "21st Century Blues" mingles the incredulity of the state of the world, with hope for the future – "We stand now on the verge of history / The world can be anything that we want it to be / Where there's a will there's a way; where there's a fire there's a spark / Out in the streets downtown in the park / Maybe the future's just waitin' on you and me In the 21st century."
The album's final track, "Remember Me" channels the sense of loss felt raising a family while being on drugs and on the road. It's a clear-eyed dedication to getting it right this time around, realizing that nobody's getting any younger – "You're lookin' at me I'm lookin' at you / And it's everything a grown man can do / Not to break down and cry like a fool / When you smile at me / I can only hope I do my best / With whatever time that we got left / And when everything's done and said / You'll remember me."
It's an album that finds Steve Earle rejuvenated with his trusty backing band who are ready and willing to rock the world on tour. These songs will only get better on stage.