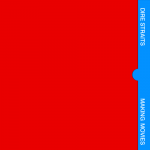 Today's Song Of The Day comes from Dire Straits' third album Making Movies. The album was co-produced by Jimmy Iovine whom Mark Knopfler contacted because he liked the production sound he gave to Patti Smith's single "Because The Night," and Iovine brought a similar New Wave sheen to Making Movies.
David Knopfler left the group during the making of this album, and Iovine brought Roy Bittan (of The E Street Band) into the fold on keyboards to help fill the void. It was the first time that Dire Straits had ever worked with a keyboard player, and Bittan expanded the band's musical palate especially on the songs "Tunnel Of Love," "Romeo And Juliet" and "Expresso Love."
As a result, Making Movies was Dire Straits' first real cohesive album, or at least side one was, with lengthier songs that took on cinematic proportions. The first side of this album is about as perfect a record side as you can imagine, featuring the epic trilogy of "Tunnel Of Love," "Romeo And Juliet" and today's Song Of The Day, "Skateaway."
The album's eight minute opener "Tunnel Of Love" features an excerpt from Rodgers And Hammerstein's musical Carousel that introduces the carnivalesque ambiance of the song as Knopfler ruminates on growing up in the lyrics. It is followed by "Romeo And Juliet" which imagines a scenario where Juliet leaves Romeo for fame. Knopfler wrote today's Song Of The Day while spying a woman on roller skates listening to music on her Walkman. You can't get any more 1980s than that. The video for the song garnered heavy rotation on MTV, and the single peaked at #58 on the charts. It was a perfect video for a perfect song.
Knopfler's guitar work is dazzling throughout the album, and the rest of the Dire Straits lineup included John Illsley on bass and vocals, Pick Withers on drums and Sid McGinnis on guitars. Unfortunately, the second side of the record is kind of a letdown after the heights reached on side one.
There were four outtakes from the sessions including the album's title track "Making Movies," "Suicide Towers," "Sucker For Punishment" and "Twisting By The Pool." Three of the four tracks remain unreleased, but "Twisting By The Pool" was subsequently released the following year on an extended play 12" single.