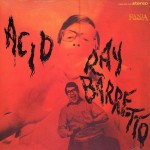 Like Tito Puente before him, Ray Barretto is one of the all-time greatest "Soul Drummers" of them all.  He gave us the "El Watusi" in 1961, "Senor 007" in 1969 and this gem in 1967.  The music emanated from el barrio, the South Bronx and Spanish Harlem in New York City, via the then-fledgling Latin record labels like Tico and Fania. Like Rap music in the early 1980s, this music sprang up from the streets and changed the world forever.
Ray Barretto was born in New York City and cut his teeth playing conga with Charlie Parker, José Curbelo and Tito Puente.  He replaced Mongo Santamaria in Tito Puente's band in 1957 and stayed on for four years before working with Herbie Mann. In the early 1960s, he was also a member of the house band for the Prestige, Riverside and Blue Note record labels.
In 1961, Barretto released his breakthrough single "El Watusi," which captured the sounds of the New York City streets and transported the Latin sound out of the barrio and into the public consciousness. "The Watusi" kicked off a national dance craze and was just one of a handful of recordings by the likes of Willie Colón, Joe Cuba ("Bang! Bang!") and Mongo Santamaria ("Watermelon Man") that resulted in introducing a new popular crossover genre in Latin dance music known as Boogaloo.
In the wake of "El Watusi's" success, Barretto struggled to chart with a follow-up hit. However, he did become an in-demand session player and worked on Jazz albums by Gene Ammons, Cannonball Adderley, Art Blakey, Kenny Burrell, Art Farmer, Dizzy Gillespie, Herbie Mann, Yusef Lateef, Lou Donaldson, Red Garland, Dizzy Gillespie, Freddie Hubbard, Wes Montgomery, Cal Tjader and Weather Report. He also sessioned on rock albums by The Rolling Stones (congas on "Sympathy For The Devil"), Average White Band (Cut The Cake album), Bette Midler (her debut album) and The Bee Gees (Main Course album).
Barretto finally gained his commercial footing after signing with Fania Records in 1967 and releasing the album Acid where today's Song Of The Day originally appeared. The album combined the sounds of Latin, funk and soul music and included the influential tracks "A Deeper Shade Of Soul," "Teacher Of Love" and "El Nuevo Barretto." During his seven year stint with Fania, Barretto released nine successful albums, became the director of The Fania All Stars, and established himself as one of the leading players in Salsa music.
Barretto continued to release popular albums throughout the 1980s including the Grammy winning album Ritmo En El Corazón he recorded with Celia Cruz.
On January 13, 2006, he was awarded the Jazz Masters Award by the National Endowment for the Arts which was a distinction for lifetime achievement. He suffered a heart attack two days later and underwent several heart surgeries before succumbing to his illness on February 17, 2006.
After years of dormancy and total disregard, the Fania label was reactivated with a comprehensive reissue program through Universal Music in 2007, resulting in the essential 2-CD compilation Ray Barretto Que Viva La Musica (Ray Barretto: A Man And His Music).