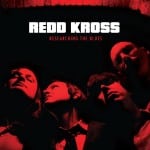 Great power pop artists: Raspberries, Sweet, Cheap Trick, Big Star, The Cars, The Knack, Rockpile, Let's Active, The dBs, Squeeze, Nick Lowe, The Smithereens, Marshall Crenshaw, Matthew Sweet, Guided By Voices, Fountains Of Wayne, The Minus Five, Apples In Stereo…REDD KROSS!
How is it that some of the catchiest power pop ever committed to vinyl has gone so unnoticed by so many for so long?
Such is the case of Redd Kross' latest album Researching The Blues, which was released last year to little fanfare and even less sales. Great albums should get noticed, and while there were plenty of write-ups that accompanied Redd Kross' first album in a decade, the record barely made a dent on the imagination of the American music-buying public.
Red Cross (their original name) formed out of the ashes of late '70s West Coast band The Tourists, and has had a long, storied career with numerous lineup changes and two constant members, brothers and pop culture savants, Jeff and Steve McDonald. The group's debut album, Born Innocent, had a cover of a Charles Manson song, and odes to Linda Blair, Jim and Tammy Faye Baker and Tatum O'Neal.
Shortly after its release, the group was threatened by a lawsuit from The American Red Cross, so they changed their name to Redd Kross in tribute to actor/comedian Redd Foxx. Their name really had nothing to do with The American Red Cross in the first place; rather it was a reference to Linda Blair's masturbation scene from the movie The Exorcist.
Their 1984 album Teen Babes From Monsanto was an all-covers affair, including versions of "Deuce" by Kiss, "Citadel" by The Rolling Stones and "Saviour Machine" by David Bowie, and their cover of "Sunshine Day" by The Brady Bunch was featured in the movie Desperate Teenage Lovedolls.
In 1987, the group released their masterwork, Neurotica which included odes to childhood cartoons and even a song about breakfast cereals ("Frosted Flake"). The album should have been a huge hit, however their RCA distributed record label, Big Time Records, was having financial difficulties that led to its demise, leaving the record shipwrecked without a significant audience.
Another covers collection called Alien Sleestaks From Brazil followed under the group moniker Tater Totz, including a version of The Beatles' "I've Just Seen A Face" (with Danny Bonaduce on vocals), Yoko Ono's "Don't Worry Kyoko," "The Rolling Stones' "Sing This All Together," and a medley of "Give Peace A Chance" by John Lennon fused with "We Will Rock You" by Queen.
They signed with Atlantic Records in 1990 and released the album Third Eye and toured to support it with Pearl Jam member Jack Irons on drums. Two more independent albums followed during the 1990s, Phaseshifter (1993) and Show World (1997), for which they toured incessantly to support resulting in marginal sales and shrugged shoulders.
The band went dormant after the Show World tour for nine years until 2006 when the Neurotica lineup of Jeff McDonald, Steven McDonald, Robert Hecker and Roy McDonald reunited for a series of one-off shows and festival dates.
While fans of the group rejoiced upon hearing of their reunion shows, no new music was offered up until last year's stellar new album Researching The Blues. The album was actually recorded back in 2007 while the group was just beginning to play shows after their hiatus, but wasn't released until February of 2012.
The tight and energetic collection oozes with hooky songs including today's sticky-sweet Song Of The Day, the McCartney-esque "Meet Frankenstein," "The New Temptations" that could have fit comfortably on Cheap Trick's In Color, "Uglier," a co-write by Steve McDonald and his wife Charlotte Caffey of The Go-Gos, and the Byrdsy "Winter Blues" and "Dracula's Daughter."
Some of the group's poppiest material can be found on this sticky platter, yet once again, the American public has chosen to ignore this great group and album.