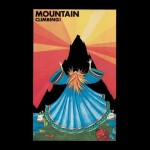 Originally posted on August 28, 2012
Every so often, you hear a song that you haven't heard in a long time, and it blows you away as if you were hearing it for the very first time. I had this experience last night at our weekly "Vinyl Night" gathering at the Firkin bar Libertyville, IL where one of the gang brought the 1970 debut album by Mountain called "Climbing!."
Now, I've had this album since I was a kid and I've heard it countless times, so many times in fact that it's been years since I've even considered playing it again. But last night, the song revealed the perfection at its core: impassioned vocals, terrific power ballad melody and superb guitar work by "The Great Fatsby" himself, Leslie West. As a result, I am listening to and enjoying the albums "Climbing!" and "Nantucket Sleighride" today, as I write this entry.
Mountain was known as the "American Cream" because they were so heavily inspired by the British power trio, and their bassist, Felix Pappalardi, also produced the Cream albums "Disraeli Gears," "Wheels Of Fire" and "Goodbye Cream." The Cream connection goes even deeper on this track, since it was co-penned by Cream bassist and vocalist Jack Bruce.
Mountain formed in 1969 in Long Island, NY, and after four concerts, they found themselves on the bill at the Woodstock festival where they made a big impression. When the" Climbing" album came out, the band consisted of Leslie West on guitar, Felix Pappalardi on bass, Steve Knight on organ and Corky Laing on drums.
After several albums, Pappalardi left the band due to hearing problems, although he would rejoin the band on several of their many reunions. Pappalardi died in 1983 after suffering a gunshot wound accidently inflicted upon him by his wife. Gail Pappalardi was charged with criminally negligent homicide and served 16 months of a four year jail sentence. The last version of Mountain featured West and Laing and recorded and toured in 2008.