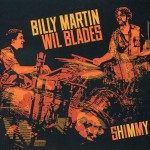 One of the best by-products of making a top albums list each year, is when those I send it to share some of their picks with me. And let me tell you, even though I do listen to more music than the average person, it is impossible to hear everything, so I do rely on this feedback to find the records that I missed. Such is the case of the album where today's Song Of The Day hails, which was shared with me by my brother-in-law who works for the National Endowment For the Arts.
He's the Martin who plays drums for the Jazz trio Medeski, Martin & Wood, and has recorded with the likes of John Scofield, John Lurie and the Lounge Lizards, Chris Whitley and Iggy Pop. Blades is a Hammond B-3 extraordinaire from Chicago, whose made a name for himself in the San Francisco Jazz scene and has lent his skills to the works of John Lee Hooker and fellow organist Dr. Lonnie Smith.
This dynamic duo joined forces for a one-off late night summit at the New Orleans Jazz Festival last year, and from that one gig, they knew they would have to do it again. And together they've made one of the funkiest records to come down the pike in many years, the aptly titled "Shimmy," released last year on the Royal Potato Family/Amulet Record label.
I'm talking about some serious deep-in-the-pocket groove up for grabs here. With a sound that at times harks back to the kind of Hammond B3 records that were made in the 1960s by the Legendary Jimmy Smith, Richard "Groove" Holmes and Brother Jack McDuff, Martin keeps the rhythms air tight with funky fits and starts, while Blades grabs heaping helpings of inspiration from the instrumental records released by the legendary JBs, who expertly backed James Brown on some of his most serious jams. At the same time, the record is also reminiscent of the work of another duo, The Black Keys, who tread similar territory with guitar and drums.
The tune stack says it all, with titles like "Deep In A Fried Pickle," "Mean Greens," "Les And Eddie" (after Les McCann and Eddie Harris), "Pick Pocket," and today's Song Of The Day, "Toe Thumb," you can expect to shake, and yes shimmy to this stuff. So is it jazz? Is it funk? Is it jam band rock? The answer is undoubtedly YES!