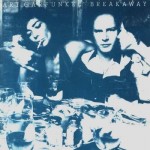 Art Garfunkel certainly missed his calling during his post Simon & Garfunkel solo career. If ever an artist was better suited to cut a Bossa Nova album, it was Art Garfunkel who possesses a gentle, smooth voice and impressive octave range to match. Proof positive is his recording of the Antonio Carlos Jobim classic "Waters Of March" from his second solo record, 1975's "Breakaway."
"Waters Of March" was written by Antonio Carlos Jobim in both English and Portuguese ("Águas de Março") and appeared on his 1973 album called "Jobim." Although, the Bossa Nova craze was in the early 1960s, the song has since become a standard part of the repertoire, covered numerous times by the likes of Sérgio Mendes & Brasil '77, David Byrne and Marisa Monte, Al Jarreau, John Pizzarelli, Rosemary Clooney, and dozens of others.
"Breakaway "was a high water mark for Garfunkel that generated three top 40 singles: "I Only Have Eyes For You" (US #18, UK #1), "Breakaway" (US #39) and the Simon And Garfunkel reunion duet, "My Little Town," which peaked at #9. Further driving the popularity of the record was the Simon And Garfunkel reunion that took place on TV's "Saturday Night Live," which at the time was the hip epicenter of the media world.
The Richard Perry produced album was an all-star affair featuring a who's who of backing talent including appearances by David Crosby, Graham Nash, Andrew Gold, Nicky Hopkins, Jim Keltner, Jim Gordon, Barry Beckett, Larry Knechtel, Russ Kunkel, Joe Osborne, Bill Payne, Klaus Voorman, Toni Tennille, Stephen Bishop and Leland Sklar.
Not only were the hits great, but there were quite a few non-singles that have become central to Garfunkel's repertoire, including the Bruce Johnston penned "Disney Girls," "99 Miles From L.A." with lyrics by Hal David and a terrific cover of Stevie Wonder's "I Believe (When I Fall In Love It Will Be Forever."
Word is that Garfunkel's voice isn't what it used to be, so I guess a Bossa Nova album coming from him today would be too much to ask…however, I'll bet he could still pull it off…