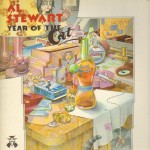 So, 2013 is not the year of the cat…it's the year of the snake, but that's just the hook that led me to choose this fine tune as the first Song Of The Day of a new year. Besides, the Chinese New Year is still a few months off in the distance…so, Happy Rosh Hashanah everyone…but I digress.
While most people are familiar with Al Stewart for a clutch of breezy pop tunes from the late 1970s like "Time Passages," "On The Border" and this top-ten smash, by 1976 Stewart had already recorded singles with members of The Yardbirds, appeared at the very first Glastonbury Festival in England (1970), and was already well known throughout Europe for his historically-themed folk and progressive rock recordings.
In 1967, Stewart moved to London where he took an apartment with another aspiring songwriter, Paul Simon, who was spending a year abroad woodshedding before resuming his recording career with Art Garfunkel. Meanwhile, Stewart continued recording as his folk recordings began to metamorphose into progressive rock with the addition of electric instruments and multi-suite compositions. His second album "Love Chronicles" (1969) had an eighteen minute title track and featured Jimmy Page and Richard Thompson on guitar.
In America, Stewart came to the attention of prog rock fans, with the release of his 1973 album "Past, Present and Future" and its FM radio staple "Nostradamus." His career here began to get traction with the release of "Modern Times" in 1975, but it wasn't until he met up with producer Alan Parsons and recorded the album "The Year Of The Cat" that Stewart would become a household name around the world.
The 1978 album, "Time Passages," followed and was also a major hit, and he never really stopped recoding, although many of his albums from the 1980s and on have never seen a release in America. Today, he occasionally records and performs live. Here's a live version of Stewart's signature song as performed on the British music TV show, "The Old Grey Whistle Test."