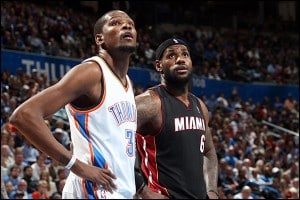 We are in the midst of one of the best NBA MVP races in recent history. Kevin Durant and LeBron James are engaged in an epic fight for supremacy. Unfortunately for the rest of the league, it appears both players are going all-in on earning the award. Thus, we are likely going to see more see situations like the one in Charlotte where LeBron personally destroyed the Bobcats franchise. While it is a two-man competition for MVP, it is still important to note the performance of a handful of other players that have had fantastic seasons. So I have decided to formulate my list for the top five MVP candidates this season, including my opinion on who leads the Durant/LeBron debate.
Before we start, here are a few players who are putting together great season but did not crack the top five. I have also included some short notes as to why they did not make my list.
Dirk Nowitzki- Another fantastic year, but his numbers aren't quite there.
Kevin Love- Crazy-good numbers, bad team.
Carmelo Anthony- Crazy-good numbers, horrendous team.
Dwight Howard- Putting together a great two-way season, but hasn't been dominant.
As for the Top Five:
5. Stephen Curry
The Numbers:
24.1 points  and 8.8 assists per game
193 three-pointers made, most in the NBA
615 points off of pull-up shots (Any jump shot outside 10 feet where a player took 1 or more dribbles before shooting). 139 more points than the second highest pull-up total, per NBA.com.
The Impact:
During his 2010-11 MVP season, Derrick Rose averaged 27.1 points and 7.7 assists per game. Curry has put up very similar numbers this season, carrying the Warriors to a 36-24 record. Curry's MVP case is aided by the inconsistent play of his supporting cast this season. Klay Thompson and Harrison Barnes have failed to make "The Jump" like many expected, leaving Steph to shoulder more of the offensive load for Golden State. In addition to his strong numbers, Curry is one of the most exciting players to watch in the game. Few players around the NBA cause Twitter eruptions like Steph does. Probably because few players can do things like this.
4. Joakim Noah
The Numbers:
12 points, 11.4 rebounds and 4.7 assists per game
Opponents shooting just 44.5% on shots at the rim when being guarded by Noah, eighth best in the league, per NBA.com
The Impact:
Noah's numbers are solid, but they only tell a fraction of his impact on the Bulls this season. Noah has helped write one of the most unexpected storylines of the year. After losing Derrick Rose and trading Luol Deng, the Bulls appeared destined for the lottery. However, Noah and Head Coach Tom Thibodeau would not let it happen. The Bulls are now 33-27 on the year and have won eight of their last ten games. They will likely end up as the three seed in the Eastern Conference and will be a pain in the ass for the Pacers or Heat to play in the second round. Chicago can thank Joakim Noah for staying relevant in what looked like a lost season.
3. Blake Griffin
The Numbers:
24.2 points and 9.8 rebounds per game
Shooting 53.2% from the field, ninth best in the NBA, per NBA.com
Shooting a career-high 70% from the free throw line
The Impact:
Chris Paul's injury on January 3 produced a fork-in-the-road moment for the Clippers. Would they hold their ground in his absence and maintain a top seed in the West or would they slip in the standings and end up with an unfavorable playoff matchup? The Clippers needed Blake Griffin to step up in Paul's absence and lead the team. He produced with flying colors and the Clippers went 13-5 with CP3 out of the lineup. Not only was a Clippers collapse diverted, but Blake established himself as a top MVP candidate. His play has drastically improved from past seasons. Griffin has developed a solid low-post game with multiple moves on the block. He has become a reasonably dependable shooter from mid-range and the foul line, forcing defenders to respect those facets of his game. Finally, while he has always been an above-average passer, the Clippers are allowing him to make plays with the ball in his hands. This is especially evident on the fast-break, as you can see in the following clip.
As for numbers one and two on my list, let us compare the following players:
Player A- 37.3 mpg, 27.5 ppg, 58.3% FG, 38.4% 3FG, 7.0 rpg, 6.4 apg
Player B- 38.4 mpg, 31.6 ppg, 50.7% FG, 39.6% 3FG, 7.7 rpg, 5.6 apg
How the hell do you choose one?
What if we compare memorable moments?
Player A is LeBron James and B is Kevin Durant. The race for MVP, like their numbers, is incredibly close. Durant appeared to have the early lead, putting up video game numbers with Russell Westbrook out of the lineup. However, LeBron has roared back in the last four weeks, including a career-high 61-point face-melter against Charlotte. They are the two best players in the world, playing arguably the best basketball of their respective careers, and doing so on two of the top teams in the NBA.
What makes this race even more enjoyable is the competition level between LeBron and Durant. It seems as if they are fueled by media discussions about who is the MVP. When one player seems to gain an edge, the other responds with a huge game. It's as if their box scores are battling one another from across the country. As fans, we are the beneficiary of this fantastic theater. It is important that during all of the debating about who is the MVP, we take a step back and enjoy these two players playing the game at unbelievable levels.
Let's get to it. The MVP standings at this point in the season are…..
2. LeBron James 
The Impact:
LeBron is having another phenomenal year. His efficiency has been particularly impressive this season. He is the only non-center with a top five field goal percentage and his  66.2% true shooting mark is second best in the league, per NBA.com. Amid frequent lineup shuffling and injuries, LeBron has been the sole point of consistency for Miami. Now, the Heat are surging, having won nine of their last ten games, and they have the look of a team hunting for the one seed in the East. Thanks to LeBron, they will probably capture it.
1. Kevin Durant
The Impact:
Durant is putting together the strongest all-around season of his career. As I have outlined already this season, Durant's playmaking and defense have improved drastically. Like Griffin, Durant was put in a position where he had to carry his squad without a key teammate. It was during this period when Russell Westbrook was injured that Durant solidified his MVP case. Despite Westbrook rejoining the lineup in recent weeks, Durant is still putting up monster numbers, averaging 32.6 points per game in the five games since Westbrook has returned. As long as Durant continues to get his 20 field goal attempts per game, he will keep putting up dominant numbers.
Follow me on Twitter: KevinMajor_SRN
Email me: KevinMajorSRN@gmail.com