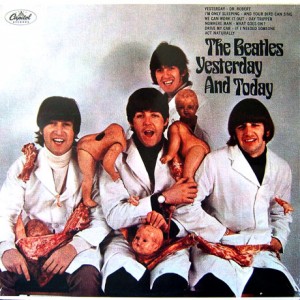 1966, The Beatles release their album Yesterday & Today, featuring the band wearing butcher's aprons on the front cover surrounded by decapitated baby dolls. At the time, some of the Beatles defended the use of the Butcher photograph. John Lennon said that it was "as relevant as Vietnam" and McCartney said that their critics were "soft." However, this opinion was not shared by all band members. George Harrison said in The Beatles Anthology that he thought the whole idea "was gross, and I also thought it was stupid. Sometimes we all did stupid things thinking it was cool and hip when it was naive and dumb; and that was one of them." After advance copies were sent to disc jockeys and record reviewers, negative reaction to the cover photo was so strong Capitol recalled 750,000 copies from distributors to replace the cover. They have become a valued collectors item.
1967, At San Francisco's Golden Gate Park, the Grateful Dead, Big Brother & the Holding Company, and Quicksilver Messenger Service all perform for the summer solstice celebrations.
1967, Pink Floyd, John Bassett, Georgie Fame, Herbie Goins, and comedian Frankie Howerd played at the Commemoration Ball, Main Marquee, Magdalen College, Oxford England. Floyd performed two twenty-minute sets, at 11pm, and again at 3;15 am.
1969, Yes appeared at Kent University, Canterbury, England.
1969, David Bowie recorded "Space Oddity" at Trident Studios London. Rick Wakeman was an in house session player on mellotron on the song. It reached number five in the UK, but upon it's US re-release in 1973 and UK in 1975, it became a chart topper.
1969, The Allman Brothers Band performed at Boston Tea Party, Boston, Massachusetts.
1969, The first of a three day Festival in Newport, California, featuring: Ike And Tina Turner, Marvin Gaye, Creedence Clearwater Revival, The Byrds, The Rascals, Steppenwolf, the Jimi Hendrix Experience, Janis Joplin, Johnny Winter, Eric Burdon and Love. A three day ticket cost $15 (£10.) Hendrix received $125,000 for his appearance, at the time it was the highest fee ever paid to a rock act for a single appearance.
1970, The FBI begins a search of Memphis International Airport after a bystander hears Who guitarist Pete Townshend talking about "the bomb." It turns out he was only referring to his new album Tommy, and in the nicest possible way.
1971, Pink Floyd played the last night of a European tour at the Pallazo Dello Sport in Rome Italy.
1973, Neil Diamond appeared on the 20th anniversary show of American Bandstand. The US TV show also featured Little Richard, Cheech and Chong, Paul Revere and the Raiders, and Three Dog Night.
1973, Bread play their last show in Salt Lake City. The band decides to quit after its equipment truck flipped over earlier in the day, destroying $30,000 worth of gear.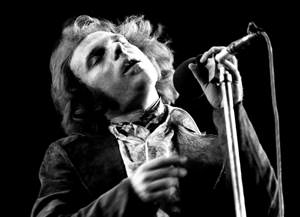 1974, Van Morrison, The Allman Brothers, The Mahavishnu Orchestra, Tim Buckley, The Sensational Alex Harvey Band and The Doobie Brothers all appeared at Knebworth Park, Stevenage, England. A special PA system was used for the event, claiming to be the best ever for an outside show, weighing 12 tons and needing five technicians.
1975, At England's Wembley Stadium, Elton John headlines the killer bill of the Eagles, the Beach Boys, Rufus, and future Eagles guitarist Joe Walsh
1979, Former Rolling Stones guitarist Mick Taylor releases his self titled solo debut.
1980, During a UK tour Fleetwood Mac played the first of six sold-out nights at Wembley Arena, London, England.
1986, Phil Collins, Dire Straits, Tina Turner and Elton John all appeared at the fourth annual 'Prince's Trust Rock Gala' held in London.
1995, Jeff Buckley played the first night of a UK tour at The Queens Hall, Edinburgh, Scotland.
1998, Black Sabbath, Foo Fighters, Korn, Pantera, Soulfly, Slayer, Fear Factory, Coal Chamber, Life of Agony, Limp Bizkit, Entombed, Human Waste Project, Neurosis, and Pitchshifter all performed at Ozzfest, Milton Keynes Bowl, England.
2000, The Ronettes were awarded $2.6 million (£1.6 million) in back earnings from Phil Spector. New York judge Paula Omansky ruled that the legendary producer had cheated them out of royalties.
2006, Claydes Charles Smith, co-founder and lead guitarist of Kool & the Gang died aged 57 after a long illness. Smith stopped touring with the band in January 2006.
2009, Dave Matthews Band went to number one on the US album chart with Big Whiskey and the GrooGrux King, the band's seventh studio album.
Born on June 20: Chet Atkins (1924); Mickie Most, producer (1936); Brian Wilson (1942); Ray Davies (1944); Dolores "LaLa" Brooks, American-English singer-songwriter, The Crystals (1947); Lionel Ritchie (1949); Alan Longmuir, Scottish bass player, songwriter, actor, Bay City Rollers (1949);  Michael Anthony, American bass player, Van Halen, Chickenfoot (1954); John Taylor, English singer-songwriter, bass player, producer, Duran Duran, The Power Station (1960); Stone Gossard, Pearl Jam (1966); Jeordie White, American singer-songwriter, guitarist, bass player, Marilyn Manson, Nine Inch Nails, A Perfect Circle, Goon Moon (1971);