Top Ten lists are subjective by nature, but this list encompasses ten utterly divine comedy films that are generally overlooked by a lot of critics and writers.
The criterion for inclusion here are, in addition to the failure to appear on lists such as Paste Magazine's 100 Best Comedies or Time Out Magazine's Funniest Films of All Time, no sequels (eliminating such gems as American Pie or Revenge of the Nerds) or not considered cult classics, such as The Big Lebowski or Napoleon Dynamite.
The members of this list do boast several things in common, which is either a great cast, outstanding writer, notable director, memorable lines, or some combination of the above.
No need for a countdown, we'll start right from the top with my ten underappreciated comedic tour de forces that should be part of your collection.
Used Cars (1980)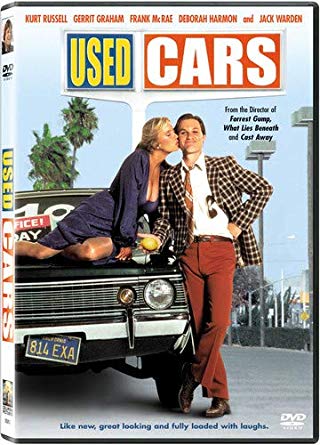 Robert Zemeckis, the writer of Back to the Future and director of Forrest Gump penned this hilarious send up of the used car business. The cast includes Kurt Russell, Jack Warden (playing two roles), Gerrit Graham (Dallas), Michael McKean and David Lander (Laverne & Shirley), Alfonso Arau (Romancing the Stone) and a cameo by Al Lewis. Salesman Rudy Russo (Russell) has big ambitions, and when his plans are short circuited by his boss' death, takes matters into his own hands. Memorable line (one of dozens): "I'll tell you something. This country is going to the dogs. You know, it used to be when you bought a politician, that son of a bitch stayed bought."
Night Shift (1983)
Henry Winkler, looking to go in a different direction from his iconic character of "The Fonz," was nominated for a Golden Globe in Ron Howard's sophomore directorial effort as henpecked husband, simply looking for a quiet, uneventful work place. Michael Keaton had his breakout role as fast talking, idea man Bill Blazejowski, who turns Winkler's world upside down with his scheme to run a prostitution ring out of the city morgue. Early screen roles for Kevin Costner and Shannen Doherty. Memorable line: Belinda: Franklin once told me that he wanted to be buried in his car. Chuck: We don't do that. Belinda: Oh? Chuck: You'll probably have to call the funeral home or the department of motor vehicles.
Murder By Death (1976)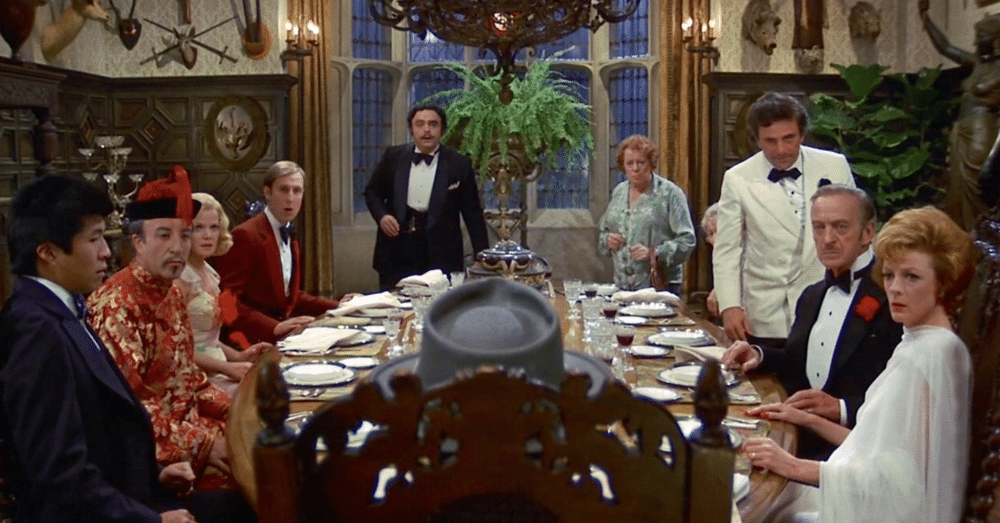 Neil Simon, award winning screenwriter and playwright penned this spoof of murder mystery movies, borrowing from Agatha Christie, and making fun of notable film sleuths like Hercule Poirot, Miss Marple, Charlie Chan, Nick and Nora Charles, and Sam Spade. The movie has a who's who of great actors such as Sir Alec Guiness, Peter Falk, Maggie Smith, James Coco, David Niven, Eileen Brennan, James Cromwell, and a rare appearance by Truman Capote. The real scene stealer is Peter Sellers as Sidney Wang who delivers some of the best lines in the movie, such as "Conversation like television set on honeymoon…..unnecessary!"
Kentucky Fried Movie (1977)
Imagine an R-rated version of Saturday Night Live. That's what emerged from the first writing effort by the soon to be famous team of Jerry Zucker, along with his directing partners, brother David, and Jim Abrahams. They would go on to produce, write, or direct Airplane, The Naked Gun series, Top Secret, and two more movies on this list. It is a film of outrageous comedy sketches, anchored by a "A Fistful of Yen," mashup of Clint Eastwood westerns and Bruce Lee movies. Donald Sutherland, Bill Bixby, Henry Gibson, George Lazenby, and a hosts of unknowns including the writers themselves, and members of their families have bit roles. A number of gags carry over into the different scenes. Directed by John Landis (Animal House). Memorable line: Pennington: These are the Hartz Mountains of Asia. A terrain so rugged, so treacherous, no country will claim it. Asquith: Worse then Detroit? Pennington: I'm afraid so.
Ruthless People (1986)
Another gem from team Zucker-Abrahams-Zucker It was written by Dale Launer, who would go on to pen Dirty Rotten Scoundrels and My Cousin Vinnie. This crime caper gone wrong has it all, infidelity, kidnapping, blackmail, attempted murder, and robbery, none of which goes as planned. Starring Danny DeVito, Bette Midler, Judge Reinhold, Helen Slater, and the film debut of Bill Pullman (Independence Day). Memorable line: [Sam is on the phone to an attack-dog company] Yes, your attack dogs. Do they just attack people or can you get them to attack little dogs? [listening] Well, what if you starve them for a while?
Rat Race (2001)
The screwball comedy, undoubtedly inspired by 1963's It's a Mad, Mad, World, boasts an all-star cast that includes Whoopi Goldberg, Cuba Gooding, Jr., Breckin Mayer, Rowan Atkinson, Paul Rodriguez, Seth Green, Jon Lovitz, Dean Cain, Amy Smart, Kathy Bates, and John Cleese. The former Python plays an eccentric casino owner, who sends six strangers on a wild hunt for two million dollars in a winner-take-all race. This movie has some way out there gags, including one involving a busload of Lucille Ball impersonators. Directed by Jerry Zucker. Memorable line: [the rich guys bet on all kinds of crazy stunts and akward scenes] Hooker: So Harry, what can I do for you? Harold: Okay… here's what I want. First we both get naked. Hooker: So far so good. Harry: Except… we're both wearing sailor hats. Then we get into a jacuzzi filled with Pepto-Bismol, I clip your toenails, and you shave my buttocks. Hooker: [shocked] Pardon me? Harry: Naked, Jacuzzi, Pepto-Bismol, toenails, shave my buttocks. How much would that cost? Hooker: Harry, you have quite an imagination. [Most of the gags are visual, with the funny lines accompying them]
Bowfinger (1999)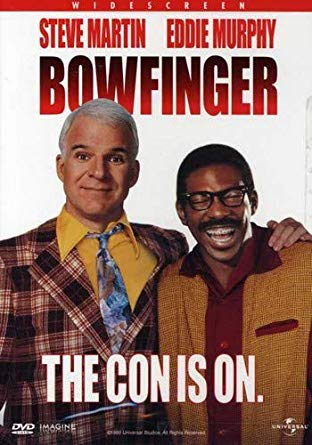 Written by Steve Martin and directed by Frank Oz (of Muppets fame), the film tells the story of a down and out moviemaker, Bowfinger (Martin) who desperately wants Kit Ramsey (Eddie Murphy) to star in his latest movie. When Kit refuses, Bowfinger decides to surreptitiously film around the eccentric star, who is a devotee of a Scientology-like religion. In addition, Murphy plays Jiff, a goofball, Ramsey lookalike with a secret of his own. Also starring Heather Graham, Robert Downey Jr., and Christine Baranski. Memorable lines: Bowfinger: Do you have any experience in motion pictures? Jiff: Uh, well, yeah, quite a bit, actually. I'm an active, uh, renter at Blockbuster, and I, um, attend the filmed cinema, uh, as much as possible, weekly, bi-weekly, inter-week-… intermediately. Bowfinger: Would you be willing to cut your hair? Jiff : [sighs] Oh, yes, but, uh, it's usually better if someone else does it. I've had a few… accidents.
Sleeper (1973)
Annie Hall, Manhattan, and Take the Money and Run remain among Woody Allen's best loved masterpieces. Often overlooked is this gem of a film from the same time period that reunites the writer-director with Diane Keaton. Health food store owner Miles Monroe (Allen) goes into the hospital for a routine procedure which goes wrong. Monroe is frozen cryogenically and revived two hundred years later. Underground scientists who wake Monroe believe his lack of identity in the year 2173 can help them infiltrate the dictatorial government running the country. There are nods to classic works of science fiction, homages to the twentieth century, and a direct reference to Allen's 1971 farce, Bananas. Plus robots, brainwashing, genetic engineering, and autocratic police states. Sound familiar? Memorable lines: Miles: I bought Polaroid at seven, it's probably up millions by now! Miles: Do I believe in God? I'm what you would call a teleological, existential atheist. I believe that there's an intelligence to the universe, with the exception of certain parts of New Jersey.
Galaxy Quest (1999)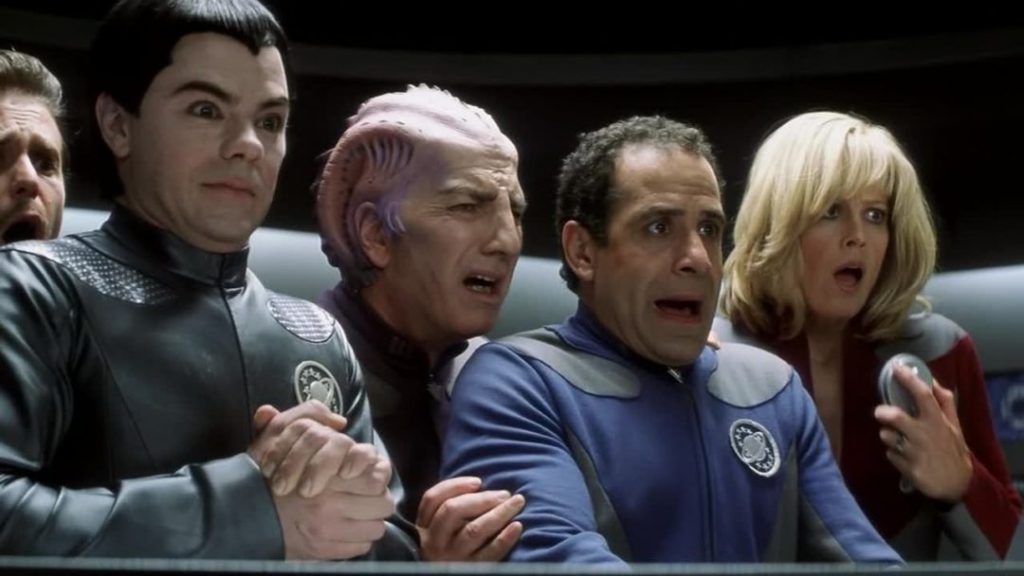 Eighteen years after bowing off the air, a group of actors from a Star Trek like television series live vicariously through fan conventions, and most are out of work, taking any gig they can get. The former cast members are united in their hate of Jason Nesmith (Tim Allen) who has a William Shatner/Jim Kirk holier-than-thou attitude. Things suddenly get very real when actual space aliens come to an event and transport the cast to a very real spaceship to fight a very real enemy. Also starring Sigourney Weaver, Tony Shalhoub, Alan Rickman, Sam Rockwell, Justin Long, Rainn Wilson, and more. Memorable line: Gwen: What is this thing? I mean, it serves no useful purpose for there to be a bunch of chompy, crushy things in the middle of a hallway. No, I mean we shouldn't have to do this, it makes no logical sense, why is it here? Jason: 'Cause it's on the television show. Gwen: Well forget it! I'm not doing it! This episode was badly written!

Accepted (2006)
Directed by Steve Pink (Gross Pointe Blank, High Fidelity, Hot Tub Time Machine) When Bartleby Gaines (Justin Long) fails to get into any colleges, he enlists the aid of his pal Sherman Schrader, who helps him create a "fake" college to fool his parents. Thus, South Harmon Institute of Technology is born. Unfortunately for the pair, the website they built accepts anyone who applies, enticing several other misfits and academically challenged students to enroll. Thus, the pair have to create a college, complete with campus, a dean, and classes. Naturally this causes a problem with the real college next door and the hilarity ensues. Also starring Lewis Black, Blake Lively, and Ann Cusack. Memorable line: Uncle Ben: You know a lot of people say that college is a time when young men and women expand the way that they look at their world when they open their mind to new ideas and experiences and when they begin that long journey form the innocence of youth, to the responsibilities of adulthood… now isn't that a load of horse shit! AHAHAHAHA!
The Princess Bride (1987)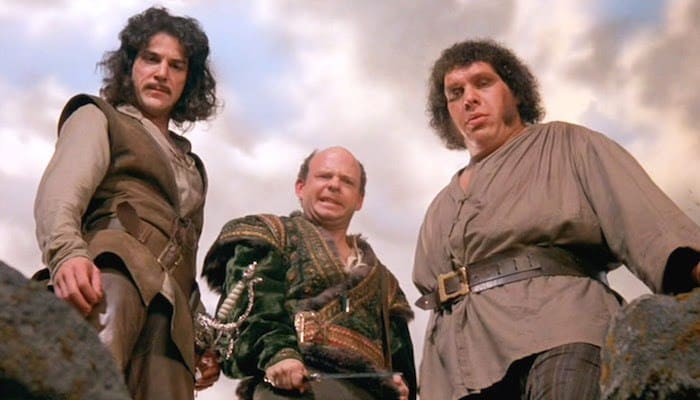 A fairy tale brought to life as the Grandfather (Peter Falk) reads a story to his grandson, played by Fred Savage. Westley (Cary Elwes) sets out to rescue a kidnapped princess, Robin Wright (in her first film) from evil Prince Humperdinck. On this adventure, he encounters Vizzini (Shawn Wallace) Fezzick (Andre the Giant) and Spaniard Inigo Montoya (Mandy Patankin, all three pictured above). Montoya repeats the most popular refrain from the film, "Hello. My name Inigo Montoya. You killed my father. Now prepare to die." This story of "true love" has pirates, sword play, a secret forest, and best of all, funny cameos from Billy Crystal and Carol Kane. Lots of laughs and great lines. Directed by Rob Reiner. Screenplay by two-time Oscar winning writer William Goldman (Butch Cassidy and the Sundance Kid, All The President's Men.)