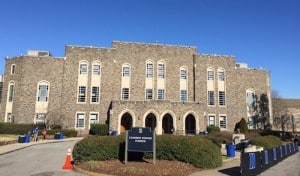 I took advantage of some frequent flyer miles and a break in my schedule to head east to North Carolina and visit some hallowed hoops ground down on Tobacco Road.
The UNC Tar Heels and Duke Blue Devils had back-to-back home basketball games against Virginia Tech and Pittsburgh, respectively. Over the years, I've seen countless games on television played at each venue, but I didn't quite know what to expect being there in person. My feeling was that Cameron Indoor Stadium was small and the fans, the "Cameron Crazies" are just that, and that the Tar Heels have a pretty good basketball heritage.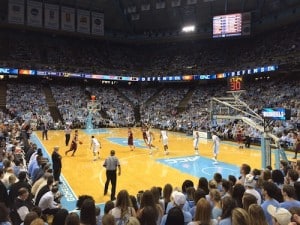 In Chapel Hill, my most indelible moment came the minute I entered the arena and was struck by the dozens of banners hanging in its rafters, celebrating the school's numerous national titles (five) and the incredible number of great players that starred there. Outside of perhaps UCLA and Kentucky, I don't know of another program that can come close to matching UNC's success on the hardwood. The Dean Dome is large, and more of a typical NBA arena, but you can see and feel the history from the banners in the rafters.  Despite its size (21,750 capacity) it maintains the atmosphere of a college venue and the student section is rowdy, providing a definitive home court advantage. Everywhere you look you see Carolina Blue, from the seats to the players' uniforms.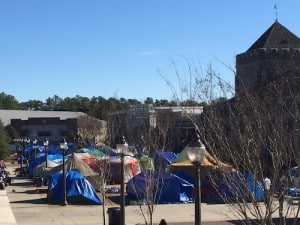 At Duke, one of the neat things I encountered happened as I walked from the parking lot to Cameron, and passed through "Krzyzewski-ville," where the undergraduate students were already camped out for tickets for the highly anticipated game against rival North Carolina. That game doesn't take place until February 18!!!
Once inside, I sat courtside opposite the visitors' bench. The students certainly make their presence known. The heckling of the opponent begins during warmups. The cheering goes non-stop the entire game too, which the Blue Devils won, 79-65, giving coach Mike Krzyzewski his 999th victory.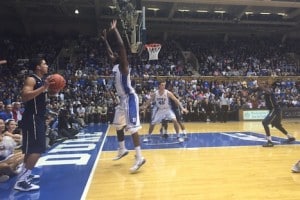 I was little surprised to see how the student seating worked. There are literally no actual seats.  It was basically a metal standing area that fills up some ninety minutes before tipoff.  They were literally breathing down my neck, positioned no more than a foot behind me. Their constant screams had my ears ringing.
Now that I've experienced both places, I can say firsthand that it's a pilgrimage any college hoops fan would relish.
Tagged: UNC and Duke Basketball