1964, The Beach Boys recorded their next single "I Get Around," which became their first US number one in the summer of '64.

1965, The Who made their first radio appearance on the UK BBC's Joe Loss Pop Show.

1966, a charity concert at The Hollywood Bowl, Hollywood, California, took place featuring, Jan and Dean, Sonny & Cher, The Mamas And The Papas, The Turtles, Otis Redding, Donovan, and Bob Lind.

1967, 154 Austrian Rolling Stones fans were arrested when a riot broke out at a 14,000-seated Town Hall gig. In the fracas, a smoke bomb was thrown on the stage.

1967, Steve Winwood leaves the Spencer Davis Group to form his own band, Traffic.
1968, Janis Joplin and Big Brother & the Holding Company, as her band was being billed, performed at The New Generation in New York.
1968, Jimi Hendrix appeared at the Paul Suave Arena, Montreal, Canada.


1969, Bruce Springsteen's new group Child made their live debut at the Pandemonium Club in Wanamassa, New Jersey.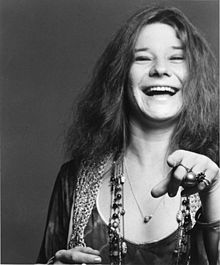 1970, Phil Spector completed final editing and mixing for The Beatles Let It Be album, 16 months after the "Get Back" project had begun.

1970, Janis Joplin decides to get a tattoo on her wrist and another over her heart reading "One for the Boys."

1971, Janis Joplin was posthumously at number one on the album charts with Pearl.

1971, Ringo Starr releases his debut single, "It Don't Come Easy."
1973, The Grateful Dead performed at the Boston Garden.
1973, Led Zeppelin played at the Centre Sportif on the Ile de Vannes, in Paris. The setlist: Rock and Roll, Over the Hills and Far Away, Black Dog, Misty Mountain Hop, Since I've Been Loving You, Dancing Days, Bron-Y-Aur Stomp, The Song Remains the Same, Rain Song, Dazed and Confused (incl. San Francisco), Stairway to Heaven, Whole Lotta Love (medley including Everybody Needs Someone To Love, Let That Boy Boogie, I'm Going Down, (You're So Square) Baby I Don't Care, Let's Have a Party, I Can't Quit You Baby), Heartbreaker.
1974, Queen performed at Barbarella's, Birmingham, England.
1975, Genesis appeared at Killesberghalle, Stuttgart, Germany.
1976, Robin Trower played at the Capital Centre, Landover, Maryland.

1977, Abba were at number one on the UK singles chart with their fifth chart topper, "Knowing Me, Knowing You." The song was also a Top ten hit in over 15 countries.
1977, Fleetwood Mac went to number one on the US album chart with Rumours. Also on this day Fleetwood Mac kicked off a 7-date UK tour at the Odeon, Birmingham, England.
1983, Pink Floyd release the US version of The Final Cut, their last album with Roger Waters. The UK release took place on March 21st.
1987, U2 kicked off their 29-date North American Joshua Tree tour at Arizona State Activity Centre in Phoenix.
1987, One of the greatest jazz drummers of all time, Buddy Rich died aged 69 due to complications caused by a brain tumor. Rich worked with many acts including, Frank Sinatra, Ella Fitzgerald, Louis Armstrong, Tommy Dorsey's band, Dizzy Gillespie and Oscar Peterson. Rush's Neil Peart organized a pair of 90s tribute albums (titled Burning for Buddy), which also featured the work of Kenny Aronoff, Dave Weckl, Steve Gadd, Max Roach, Steve Smith and Matt Sorum.
1990, Nirvana went into Smart Studios in Madison, Wisconsin and started work on demo versions of "In Bloom," "Dive," "Lithium," "Pay To Play," "Imodium," "Sappy," and "Polly," with Butch Vig producing.
1998, Rob Pilatus, one half of pop duo Milli Vanilli was found dead in a Frankfurt Hotel room after taking a lethal combination of drugs and alcohol. Milli Vanilli won the 1989 best new artist Grammy after hits like "Blame it on the Rain" and "Girl, You Know It's True," selling 30 million singles and 14 million albums. But in late 1990, the performers were stripped of the award after it was revealed that neither actually sang on the Milli Vanilli album.
2003, soul singer Edwin Starr died at his British home in Nottingham aged 61. Formed The Future Tones in 1957, had the 1970 US number one and UK number three anti-Vietnam War protest song "War." According to Starr, the song was recorded in one take.
2006, A John Lennon schoolbook containing the 12-year-old's drawing of Lewis Carroll's poem The Walrus and the Carpenter was sold at auction for £126,500, ($239,733). The poem inspired Lennon to write The Beatles' 1967 song "I Am the Walrus." Also sold for £12,000, ($22,741) was a ship's log book written by Lennon during a stormy trip to Bermuda in 1980, and a letter from Paul McCartney to his bandmates Lennon, George Harrison and Ringo Starr failed to reach its £50,000, ($94,742) reserve price
2006, Gnarls Barkley started an eight-week run at number one on the UK singles chart with "Crazy." The American duo made chart history by becoming the first act ever to reach the top of the charts through computer downloads only. The single was not available to buy in shops until the following week.
2013, A grand piano used in the Motown Records studios was fully restored and put on display at a museum dedicated to the legendary record label in Detroit. Sir Paul McCartney helped fund the restoration of the 1877 Steinway, which was originally in Motown's Studio B. and was used to create hits for names including Marvin Gaye, Stevie Wonder and Edwin Starr.
Born on April 2: Serge Gainsbourg, (1928); Marvin Gaye (1939); Leon Russell (1941); Emmylou Harris (1947); Leon Wilkeson, bass, Lynyrd Skynyrd (1952); David Robinson, The Cars (1953); Greg Camp, Smash Mouth (1967)