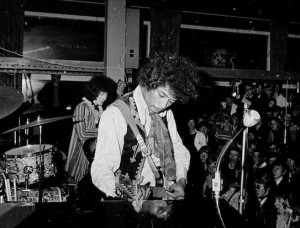 1966, The Jimi Hendrix Experience made their debut on the UK TV show Top Of The Pops performing "Hey Joe."
1966, Working at Abbey Road studios, London, Paul McCartney began work on his new song "Penny Lane," recording six takes on the piano, then added a second piano, put through a Vox amplifier with vibrato and reverb to create various percussion effects. Penny Lane is a neighborhood in the Beatles' hometown of Liverpool, as well as a street, and a bus station through which Paul used to travel in order to get to John Lennon's house.
1966, Pink Floyd and Syn, featuring bassist Chris Squire, who would later became a member of Yes, appeared at The Marquee, Wardour Street, London, England. In addition to Floyd, the biggest selling acts in the world who appeared at The Marquee would include AC/DC, Fleetwood Mac, Elton John, Simon & Garfunkel, and The Rolling Stones.
1967, Wilson Pickett performed at the Civic Center in Charleston, West Virginia.
1967, British guitarist and singer Dave Mason quit Traffic after differences of musical opinion. Mason wrote "Hole in My Shoe," a psychedelic pop song that became a hit for Traffic in 1967.

1968, Led Zeppelin appeared at the Civic Auditorium, Portland on their first North American tour, opening for Vanilla Fudge
1969, John Lennon and Yoko Ono have a session with Canadian hypnotists Hammrick & Leonard. The couple are trying to stop smoking.
1971, The Allman Brothers Band at the Spectrum in Philadelphia, Pennsylvania.
1972, Roxy Music performed at the Cumberland Auditorium, Fayetteville, North Carolina.
1973, Jim Croce scored his second number one US single of the year when 'Time In A Bottle' went to the top of the charts. Croce was killed in a plane crash on 29th September 1973.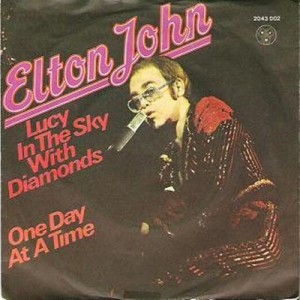 1974, Number one chart toppers pop hit: "Lucy in the Sky with Diamonds," Elton John. The John Lennon-Paul McCartney song first appeared on the Beatles album Sgt. Pepper's Lonely Hearts Club Band in 1967.
1974, Lynyrd Skynyrd played at the Barton Coliseum, Little Rock, Arkansas.
1975, Grace Slick divorces her Jefferson Airplane bandmate Paul Kantner.
1977, Rush appeared at Maple Leaf Gardens, Toronto.
1979, ZZ Top played at the Tarrant County Convention Center, Fort Worth, Texas.
1980, Tim Hardin dies from a heroin overdose just six days after his 39th birthday. Although he wrote Rod Stewart's hit "Reason to Believe" and "If I Were a Carpenter," which was a hit for both Bobby Darin and the Four Tops, he had not recorded an album of his own since 1973.
1982, Sets of commemorative stamps in memory of Bob Marley were issued in Jamaica.
1983, Aerosmith performed at the Cumberland County Civic Center, Portland, Maine.
1984, The Grateful Dead play at the Civic Center, in San Francisco.
1999, UK music paper The Melody Maker published it's Music of the Millennium Poll of albums, placing The Smiths' The Queen Is Dead at number one.
2010, Pollstar reported that Bon Jovi were the highest earning touring act of the year, taking in over $200 million (£130.7m.) Australian rockers AC/DC landed at number two for the second year in a row, with tickets sales from their recent trek totaling $177m (£115m.) U2, which was the top worldwide act in 2009, came in at third place, with ticket sales totaling $160.9m (£104.6m.) Lady Gaga followed in fourth place, with Metallica at number five.
2011, Robert Lee Dickey, who performed as Bobby Purify in the '60s Soul duo James And Bobby Purify, passed away at the age of 72. The pair are most often remembered for their 1966, Billboard Top 10 hit, "I'm Your Puppet."
2012, According to sales data, Adele's 21 had overtaken Oasis' (What's The Story) Morning Glory? to become the UK's fourth biggest selling album of all-time. Latest data confirmed that, Oasis' 1995 second album had sold 4,555,000 copies to date, while Adele's 21 has surged ahead with sales of over 4,562,000 copies. The news came just over a year since 21 overtook Amy Winehouse's Back To Black to become the UK's biggest selling album of the 21st Century.
Born on December 29: Ray Thomas , Moody Blues (1942); Rick Danko, The Band (1943); Maryanne Faithfull (1946); Cozy Powell, drummer (1947); Yvonne Elliman, singer (1951); Neil Giraldo, Pat Benatar group (1955); Jim Reid, guitar, singer, The Jesus and Mary Chain (1961); Mark Day, guitar, Happy Mondays (1961); Dexter Holland, singer-songwriter, guitarist, The Offspring (1965); Glen Phillips, singer-songwriter and guitarist Toad the Wet Sprocket (1970)