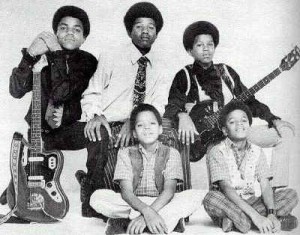 1968, The Jackson Five signed a one-year contract with Motown Records.
1968, Decca pulls the Rolling Stones' Beggars Banquet from its release schedule, citing problems with the sleeve. The design features a graffiti-covered toilet. It's one of the first disagreements between the band and the label, with Mick Jagger angrily pointing out that Decca released Tom Jones' A-tom-ic Jones with a nuclear explosion printed on its jacket sleeve.
1968, The Jeff Beck Group, Pink Floyd, and headliner Blue Cheer play the first of two night at the Shrine Exposition Hall in Los Angeles, California.
1968, Howlin' Wolf plays the first of three nights at San Francisco's Avalon Ballroom, supported by Quicksilver Messenger Service.
1968, The Steve Miller Band appears at the Grande Ballroom in Detroit, Michigan.
1969, Brian Jones was featured on the cover of Rolling Stone magazine, on sale for 35 Cents.
1969, Blind Faith, Delaney and Bonnie and Friends, Shag, Taste, John Mayall & the Bluesbreakers, MC5, and SRC appeared at the Midwest Rock Festival, held at State Fair Park in West Allis, Wisconsin.
1969, The Turtles performed at the Salt Palace in Salt Lake City, Utah.
1969, Led Zeppelin and Vanilla Fudge played at the PNE Agrodome, Vancouver, British Columbia. Tickets were $3 – $5 Canadian.

1970, Jimi Hendrix played in his home town of Seattle for the last time when he appeared at Sicks Stadium. Cactus and Cat Mother and the All Night Newboys were the support acts.
1972, Roxy Music played at St. George's Hall in Liverpool, England.
1973, ZZ Top releases Tres Hombres, their breakthrough album. It featured the hit "La Grange," plus "Waiting for the Bus/Jesus Just Left Chicago."
1974, Summerfest was held at Rich Stadium in Buffalo, New York, featuring Emerson, Lake And Palmer, The James Gang, and Lynyrd Skynyrd.
1974, The first Beatles Convention is held in Boston.
1974, Graffiti artists were hired to spray paint sites in London to promote the UK release of The Rolling Stones new single "It's Only Rock 'n' Roll."
1974, The Allman Brothers appeared at Boston Garden, Boston, Massachusetts with The Eagles as the support band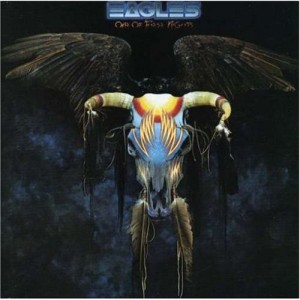 1975, The Eagles started a five-week run at number one on the US album chart with One Of These Nights.
1975, Van McCoy and the Soul City went to number one on the singles chart with "The Hustle," his only chart hit.
1977, Elvis Costello was arrested as he performed outside a CBS Records sales conference at The London Hilton Hotel and was fined £5 ($7.50.)
1977, Led Zeppelin cut short their 11th North American tour after Robert Plant's five-year-old-son Karac died unexpectedly of a virus at their home in England.
1978, Kansas performed at Pine Knob Music Theatre, Clarkston, Michigan.
1979, Thin Lizzy appeared at the Mid-South Coliseum, Memphis, Tennessee.
1980, The Rolling Stones started a seven week run at number one on the US album chart with Emotional Rescue, the group's eighth US chart topper. Emotional Rescue was the first Rolling Stones album recorded following Keith Richards' exoneration from a Toronto drug charge that could have landed him in jail for years.
1981, Van Halen played at the Cumberland County Civic Center, Portland, Maine.
1983, Asia releases Alpha, their second studio album. This one paled in comparison to the brilliant 1982 debut. It went platinum, but to mixed reviews. It featured the singles "Don't Cry" and (the prophetic) "The Smile Has Left Your Eyes." Egos in the ranks started to come into play. It's been said Steve Howe and John Wetton were "oil and water" personality wise and Howe was locked out of writing for this one with Wetton / Downes "taking over." Plus the record label, Geffen was grooming them for a more pop/commercial direction. Following the release, Wetton either quit or was forced out and the scheduled tour was cancelled. Greg Lake filled in briefly, but Wetton returned and Howe quit. The band never regained their momentum.
1986, Peter Gabriel went to number one on the US singles chart with "Sledgehammer," a top four hit in the UK. The song's music video has won a number of awards, including a record nine MTV Awards at the 1987 MTV Video Music Awards, and Best British Video at the 1987 Brit Awards. Gabriel was also nominated for three Grammy Awards.
1987, The Grateful Dead played at Anaheim Stadium in Anaheim, California.
1990, Brent Mydland from The Grateful Dead was found dead on the floor of his home aged 38 from an apparent drug overdose.
1992, Mary Wells, referred to as The First Lady of Motown and who had a 1964 US number one and UK number five single "My Guy" died, aged 49 of laryngeal cancer. Wells was forced to give up her career and with no health insurance, was forced to sell her home, Wells' old Motown friends including Diana Ross, Mary Wilson, The Temptations, and Martha Reeves, along with Dionne Warwick, Rod Stewart, Bruce Springsteen, Aretha Franklin and Bonnie Raitt, personally pledged donations in support.
2000, The celebrity management company Cassandra left dozens of acts out of pocket when it was rocked by fraud charges, filing for bankruptcy at the Manhattan Bankruptcy Court. Clients included Alanis Morissette, Phish and Afghan Whigs.
2006, The guitar on which Sir Paul McCartney learned his first chords sold for £330,000 ($520,000) at an auction at London's Abbey Road Studios. The Rex acoustic guitar helped McCartney persuade John Lennon to let him join his band, The Quarrymen, in 1957.
2013, singer-songwriter JJ Cale died of a heart attack at the age of 74. He became famous in 1970, when Eric Clapton covered his song "After Midnight." In 1977 Clapton also brought Cale's song "Cocaine" into the spotlight. The two worked together on an album, which won a Grammy award in 2008.
Born on July 26: Joe Jackson, patriarch of The Jacksons (1929);Dobie Gray (1942); Mick Jagger (1943); Roger Taylor, Queen (1949); Andy Connell, keyboards, Swing Out Sister (1961); Scott Francis Crago, session drummer (1963); Joan Wasser, singer-songwriter, violinist The Dambuilders (1970)