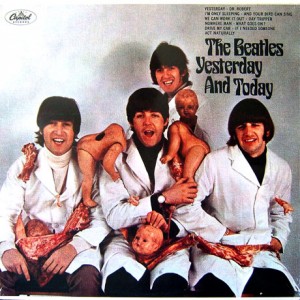 1966, At a photo session with Bob Whitaker's studio in London, The Beatles posed in white coats using sides of meat with mutilated and butchered dolls for the cover of their next American album, Yesterday and Today. After a public outcry, the album was pulled from stores and re-issued with a new cover. At the time, some of the Beatles defended the use of the Butcher photograph. Lennon said that it was "as relevant as Vietnam" and McCartney said that their critics were "soft." However, this opinion was not shared by all band members. George Harrison said in The Beatles Anthology that he thought the whole idea "was gross, and I also thought it was stupid. Sometimes we all did stupid things thinking it was cool and hip when it was naïve and dumb; and that was one of them."
1966, The Who play the Corn Exchange in Hertford, England.
1967, The Beatles perform "All You Need Is Love" during a global satellite broadcast.
1967, Jimi Hendrix played at the Gliderdrome Bingo Hall in Boston, Lincolnshire, England. The building was originally an open air skating rink. A roof was added just after the outbreak of World War II. The Gliderdrome was destroyed by fire on in May, 1959, but the "new" Glider was opened within a year on Wednesday, January 27 1960.

1967, The Turtles started a three week run at number one on the singles chart with "Happy Together."
1967, The Who and Cream made their U.S. concert debut at RKO 58th Street Theatre, New York City as part of a rock and roll extravaganza promoted by DJ Murray the K.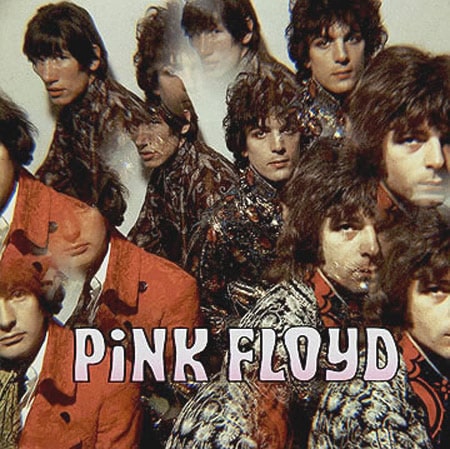 1967, The Rolling Stones kicked off a three-week European tour in Orebro, Sweden. Arriving in Copenhagen for the tour the group were delayed after customs officers search all their luggage for drugs.

1967, Pink Floyd played three gigs in 24 hours. The appeared at the Ricky Tick Club at the Thames Hotel in Windsor, England, then headed for a late show at the New Yorker Discotheque in Swindon, with The Outer Limits as support. Lastly, then played at the Shoreline Club at the Caribbean Hotel in Bognor Regis, as part of an Easter Weekend All-Nighter.

1968, The 58th and final episode of The Monkees TV series was broadcast in the US.
1969, John and Yoko started their week long "bed-in" in the presidential suite at The Amsterdam Hilton hotel. The couple invited the world's press into their hotel room every day, to talk about promoting world peace.
1969, Yes appeared at Madam Toussauds Hall Of Kings, London.
1970, Led Zeppelin performed at the Denver Coliseum, Denver, Colorado.
1971, Grand Funk Railroad played at Memorial Auditorium, Buffalo, New York.
1971, The Allman Brothers Band appeared at the O'Shaughnessy Theater, St. Paul, Minnesota.
1972, America started a three week run at number one on the US singles chart with their debut hit "Horse With No Name." The group scored eight other top 40 hits during the '70s.
1972, Lindisfarne started a four-week run at number one on the UK album chart with their debut album Fog On The Tyne.
1973, King Crimson performed at Colston Hall, Bristol, England.
1973, Roxy Music appeared at Festival Hall, Torbay, England.

1974, Rolling Stone reports that concerts by Yes, Gregg Allman, and the Beach Boys have all been hit by streakers, no doubt inspired by Ray Stevens' No. 1 hit "The Streak." Meanwhile, Allman himself performs the last date of a solo tour. To reassure the audience that the Allman Brothers Band are not splitting up, the entire band comes out and performs a 90-minute encore.

1974, KISS performed at the Bayou Theater, Washington D.C.
1975, Aerosmith played at the War Memorial Coliseum in Fort Wayne, the first date on their 63 date North American Toys In The Attic Tour.
1976, US singer, songwriter Jackson Browne's wife Phyllis Major committed suicide.
1977, Elvis Costello released his debut single "Less Than Zero." It didn't make the Top 40.
1978, 20 Golden Greats by Buddy Holly and The Crickets went to number one on the UK album chart, giving Holly his first ever chart topping, LP almost 20 years since his first release in 1959.
1978, Kansas performed at the Hammersmith Odeon, London.
1979, Van Halen played at Selland Arena, Fresno, California.
1981, Rush appeared at Maple Leaf Gardens, Toronto.
1982, The Police performed at Kemper Arena, Kansas City, Missouri.Rush
1983, Motown Records celebrated its 25 anniversary with a concert in Pasadena, featuring; The Supremes, Stevie Wonder, The Temptations, The Four Tops, Martha Reeves, Jr. Walker, The Commodores, Marvin Gaye, Smokey Robinson and The Jackson 5.
1993, The Grateful Dead performed at the Dean Smith Center at the University of North Carolina at Chapel Hill.
2002, Bono from U2 made a appearance at the air rage trial of R.E.M. guitarist Peter Buck, telling the court "I came to court because Peter is actually famously known for being a peaceable person. I once had to twist his arm to get him to a boxing match." Buck was later cleared of all charges. He had been accused of attacking two cabin staff and covering them in yogurt, knocking over a cart and trying to steal a knife. Buck did not deny his behavior but claimed a Zolpiden sleeping pill reacted violently with alcohol, turning him into a "non-insane automaton".
2005, Ozzy and Sharon Osbourne were forced to flee their Buckinghamshire mansion after a blaze broke out as they slept. Ozzy and his wife were roused by a fire alarm and ran to safety in the garden, rescuing their pets as they escaped.
2006, Buck Owens Jr. American singer and guitarist died. Pioneered the Bakersfield sound a reference to Bakersfield, California. He scored twenty No.1 hits on the Billboard country music charts.
2007, The Notorious B.I.G. was at number one on the US album charts with Greatest Hits. It was the rapper's fourth album release after being killed by an unknown assailant in a drive-by shooting in Los Angeles, California on March 9, 1997.
Born on March 25: Johnny Burnette, American singer-songwriter, The Rock and Roll Trio (1934); Hoyt Axton (1938); Aretha Franklin (1942); Elton John (1947); Jack Hall, Charlie Daniels Band (1947); Chuck Greenberg, American saxophonist, songwriter, producer, Shadowfax (1950); Steve Norman, guitar, sax, Spandau Ballet (1960); Jeff Healy (1966); Frank Ferrer, American drummer, Guns N' Roses, The Psychedelic Furs, Love Spit Love (1966); Ryan Lewis, American DJ,  producer, Macklemore & Ryan Lewis (1988)