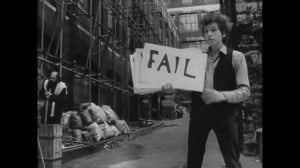 1964, On The Ed Sullivan Show, the Dave Clark Five perform "Glad All Over." Comparing them to the Rolling Stones, Sullivan declares the Five "nice, neat boys." They would perform more times on his show than any other rock act.
1965, Bob Dylan's single "Subterranean Homesick Blues" was released in the US. The lead track from his Bringing It All Back Home album, gave Dylan his first top 40 hit. Subterranean Homesick Blues is also noted for its innovative film clip, in what became one of the first modern promotional film clips. The clip was shot in an alley behind the Savoy Hotel in London, the cue cards which Dylan holds were written by Donovan, Allen Ginsberg, and Dylan himself.
1965, David Bowie made his TV debut with The Manish Boys on a UK program called Gadzooks! It's All Happening when they performed their current single "I Pity The Fool."
1966, Lulu became the first British female singer to appear behind the Iron Curtain, when she toured Poland with The Hollies.

1966, Bob Dylan recorded "Just Like A Woman" for his Blonde On Blonde album at Columbia Recording Studios in Nashville, Tennessee.
1968, Cream played the first of two nights at at Winterland Ballroom, San Francisco, California. The concert was recorded with some tracks ending up on their Wheels Of Fire double album.
1968, The Fillmore East opens for business in New York at Second Avenue and Sixth Street in the East Village. The opening bill features the eclectic mix of bluesman Albert King, folk singer Tim Buckley, and Big Brother & the Holding Company.
1969, The Small Faces split up after singer Steve Marriott announced he was leaving the band. Ronnie Lane, Ian McLagan and Kenny Jones linked up with Ronnie Wood and Rod Stewart and formed The Faces.
1969, It's a Beautiful Day performs at the Terrace Ballroom in Salt Lake City, Utah.
1970, Diana Ross made her first performance as a solo act when she appeared in Framingham, Massachusetts.
1970, The New York Times publishes an advance review of The Who's Live at Leeds by Nik Cohn in which he calls it "...the definitive hard-rock holocaust. It is the best live rock album ever made."
1970, Led Zeppelin played at Cricus Krone Bau in Munich, Germany.
1970, Pink Floyd performed at Mothers, Erdington, Birmingham, England.
1971, The Who hold the fourth and last session of the ill-fated Lifehouse project. Filming still has not begun, the band is completely confused about Pete's plans, the audience is uncooperative, mostly calling out for old Who tunes during the new Lifehouse songs, and producer/manager Kit Lambert is openly critical, stamping about and yelling, "What in the hell are we doing here?" Since Lambert is due to travel to New York the next week to produce Labelle's first album at the Record Plant, he suggests The Who fly over and record the new material there as well. Lifehouse was a science fiction rock opera by the Who intended as a follow-up to Tommy. It was abandoned as a rock opera in favor of creating the traditional rock album, Who's Next.
1971, The Rolling Stones appeared at Green's Playhouse in Glasgow, Scotland.
1972, King Crimson played at the Riverside Theatre, Milwaukee, Wisconsin.
1973, The Grateful Dead's Ron "Pigpen" McKernan died of a stomach hemorrhage in Corte Madera, California, at age 27. McKernan shunned psychedelic drugs, favoring whiskey and wine. His alcohol abuse began to take it's toll by his mid twenties. After their Europe '72 tour, Pigpen's health had degenerated to the point where he could no longer continue playing live. He made his final concert appearance on June 17, 1972, at the Hollywood Bowl, in Los Angeles.
1973, Genesis performed at New York's famed Carnegie Hall.
1973, Paul McCartney was fined £100 ($160) for growing cannabis at his farm in Campbeltown, Scotland. McCartney claimed some fans gave the seeds to him and that he didn't know what they would grow.
1974, Yes performed at Kiel Auditorium, St. Louis, Missouri.
1974, Bad Company kicked off their first UK tour at Newcastle City Hall. The band was made up by ex members from Free, (Paul Rodgers & Simon Kirke,) Mott The Hoople, (Mick Ralphs,) and King Crimson, (Boz Burrell.)
1975, The Ramones played at CBGB's in New York.
1975, John Entwistle's solo project, The Ox, perform at New York City's Academy Of Music.
1975, Keith Moon's forthcoming solo album Two Sides Of The Moon receives a favorable review in Melody Maker. The article also includes a photo of Iggy Pop riding on Keith's back.
1976, Roxy Music appeared at the Calderone Theater, New York.
1977, Santana performed at Maple Leaf Gardens, Toronto.
1984, Van Halen played at Cincinnati Gardens, Cincinnati, Ohio.
1986, Diana Ross was at number one on the UK singles chart with "Chain Reaction." It was written and produced by the Bee Gees, who also provided the backing vocals for the single. The single became her first number one single in the UK since "I'm Still Waiting" in 1971.
1986, ZZ Top performed at the Lloyd Noble Center, Norman, Oklahoma.
1986, Roger Daltrey's tribute to Keith Moon, Under a Raging Moon, hits the British charts. It is released in different formats including a double 45 EP pack with live cuts from 1985. It peaks at number 43.
1994, Rush appeared at Madison Square Garden in New York.
2009, A blue plaque in honor of The Who drummer Keith Moon was unveiled on the site of the Marquee Club in Soho, London, where in 1964 the band played the first of 29 gigs there. Fans on scooters turned up to pay tribute to Moon, who was 32 when he died of an accidental overdose in 1978. The blue plaque, which means the site is of historic importance, was awarded by the Heritage Foundation.
2009, U2 started a two week run at number one on the UK album chart with their twelfth studio album No Line on the Horizon.
Born on March 8: Mickey Dolenz,The Monkees (1945); Randy Meisner, Poco, the Eagles (1946); Michael Allsup, Three Dog Night (1947); Dave Lambert, The Strawbs (1949)