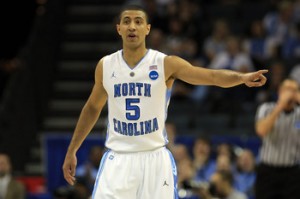 Call it sour grapes if you want, but a terrible injustice took place in Greensboro yesterday.
Creighton players appeared to be using hard fouls as a defensive strategy in full view of a nationally televised audience.
One replay captures a Bluejay player knocking down Carolina center Tyler Zeller. Early in the first half another player took a direct slap at  John Henson's injured wrist.  Cameras appeared to show him winking at his coach after the foul.
NC point guard Kendall Marshall fractured his wrist on yet another hard foul.
How do the officials allow this to take place?  What about Creighton coach Greg Mc Dermott?  He's got to bear some responsibility for this old fashioned thuggery.
See the knockdown by Gregory Echenique