Another One Hit Wonder belongs to The Vapors today. When was the last time you heard this one??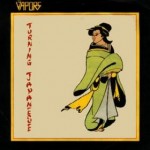 Based in Guildford, Surrey, their members were David Fenton (songwriter, guitarist and vocalist), Howard Smith (drummer), Edward Bazalgette (lead guitarist) and Steve Smith (bass guitarist and vocals). Their name was originally spelled "Vapours," but they removed the U to seem like an American band.
They were discovered and managed by the father of Paul Weller, John Weller and The Jam's bassist, Bruce Foxton. The song for which they are mainly remembered, "Turning Japanese", was produced by The Jam's producer Vic Coppersmith-Heaven and hit the Top Three in the UK at the same time that "Going Underground" was at number one. It was also a top ten hit in Canada, New Zealand and Australia, and (just barely) a top 40 in the U.S., something The Jam never managed.
The song "Turning Japanese" was believed to euphemistically refer to masturbation,[2] although Fenton (the song's author) denied that claim in an interview on VH1. He did, however, wish to thank whoever first came up with that interpretation, as he felt that the salacious rumour about what the song "really" meant may have been what made it a hit.
The band released two albums: New Clear Days (the pun on "nuclear" being intentional) and Magnets. The first was more clearly in the "traditional" new wave style of music, while touching on social issues such as the nuclear threat as well as love themes. The second album dealt more extensively with themes of alienation, with many dark lyrics about apparently psychotic characters, including the opening track, "Jimmie Jones", about cult leader Jim Jones. Sales of the second album were poor and the band broke up soon after its release in 1981. Fenton alleged in a later interview with Record Collector magazine that lack of record label support was the chief reason; apparently their intended seventh single 'Red Flag' was cancelled without explanation. Follow-up singles "News at Ten", and the aforementioned "Jimmie Jones", both coincidentally reached number 44 in the UK Singles Chart.[1] Record producer Harry Cowell was for a while the band's drum tech.
After the band
A solicitor who specializes in music law, frontman Fenton has apparently retired from his days as a music creator and performer to concentrate on legal aspects of the music industry.
Edward Bazalgette has since become a television director, credits including a 2005 BBC documentary about Genghis Khan.
Howard Smith now runs People Independent Records in Guildford; the band's home town.