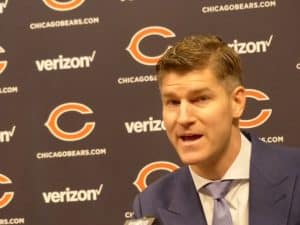 on the Weekend Sports Report with Packer Dave and Steve Leventhal
…Jim Rose, sports anchor at ABC 7 in Chicago gives us his take on the Bears injury-plagued 2016 season, and his predictions for 2017.  Ryan Pace and John Fox gave an end of the season press conference, and we discuss their comments.
Jeff Rich of SportsBylineUSA.com joins in for a 2017 NFL playoff preview. Lastly, John Poulter updates us on the NHL and English Premier League soccer.
Hear interviews with Aaron Rogers, Davante Adams, Clay Matthews, Jr., John Fox, Bears GM Ryan Pace, Odell Beckham, Jr., Golden Tate, Russell Wilson, Le'veon Bell, and Raiders coach Jack Del Rio.
Don't miss cameos from Chris Berman and Tom Arnold.