The 2018 Chicago Bears, now 8-3 and still in first place in the NFC North, travel East to the Big Apple to face the New York Giants. The Giants' struggles have been apparent this year, but, like any team, they pose their own set of unique challenges
Rushing a weak Giants' offensive line
The Giants' offensive line remains a glaring weakness in their game, even after the addition of Nate Solder and expulsion of the much-maligned Tre Flowers. They have given up 38 sacks this season, according to FootballOutsiders, which is only one less than the most sacks allowed leaders, the Tennessee Titans. Their adjusted sack rate, measured by dividing the number of sacks by the number of pass plays, is 26th in the NFL at 8.8%, according to FootballOutsiders.
"We know that… they had a history of fair share of sacks," linebacker Danny Trevathan. "We know that it's out there for us, but we have to play our ball and get after them. I mean we can't let them, you know, get on top or even, you know, have room to breathe. We know this team's capable of coming out here and performing great."
The dominance of the Bears' pass rush, on the flip side, cannot be overstated. They have 34 sacks on the year and have forced bad throws with the pass rush. Those forced bad throws have led to their league-leading 20 interceptions. We have seen dreadful, turnover-laden games from Manning in the past, and the Bears' dominant pass rush combined with their opportunistic secondary may lead to big plays on the defensive side of the ball.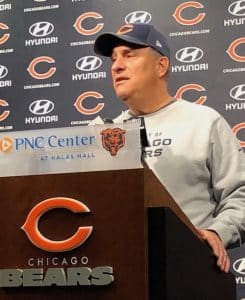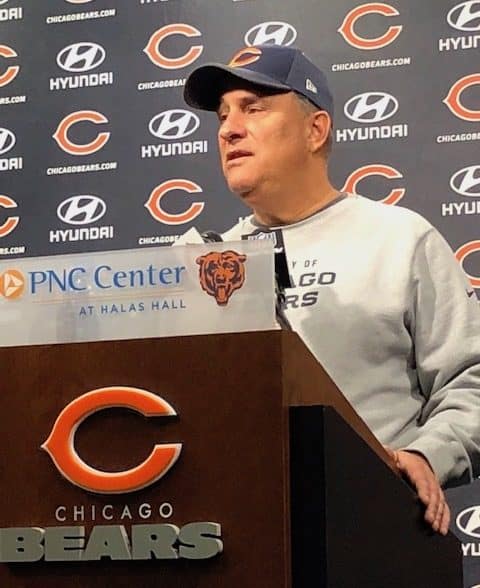 Shutting down Giants playmakers
The Giants feature two of the most electrifying players in the NFL with Saquon Barkley and Odell Beckham Jr. Either of them can turn a short gain into an explosive chunk play. The quickness and top-end speed of Beckham Jr. make him nearly impossible to match up against. He creates separation with his routes speed, but his ball-tracking ability and strong hands mean he really doesn't even need much separation to come down with the ball.
"He's really good," defensive coordinator Vic Fangio said. "You know, the guy's a tremendous athlete and [he has] great ball skills, as everybody knows. [He's] really good."
Saquon Barkley is built like an bull, changes direction like a jackrabbit and runs like a deer. A touchdown is possible anytime he has his hands on the ball, and the Giants love to get it to him. Barkley's 171 rushing attempts are the seventh-most in the NFL, and his 71 receptions are first among running backs. Those numbers put together gives him 242 touches, good enough for third in the NFL. He has 829 rushing yards and eight rushing touchdowns. Taking him away will be step one, but it's no easy task.
"It's going to take all 11 people to stop him," Fangio said of Barkley. "You know this guy will take any handoff that's designed to go anywhere, and the ball could end up anywhere. So it's going to take all 11. This guy's a really good back. He's as good as advertised. He's got speed, power, elusiveness so, he's everything that he was made out to be."
Fangio was later asked if there is a particular play he shows the defense to demonstrate how special Barkley is. His response? "Well that's the problem. There's about thirty."
It takes a special unit to stop a player like Barkley, but the Bears' defense is just that, particularly against the run. The Bears have allowed a league-best four rushing touchdowns this year, and their 80.8 rushing yards allowed per game trails only the Saints. Players will have to swarm to Barkley, who has gained 73% of his rushing yards after contact. Taking away Barkley will force Manning to throw, and if they limit both Barkley and Beckham Jr's impacts, the Giants' offense should be in for a long day.
The quarterback question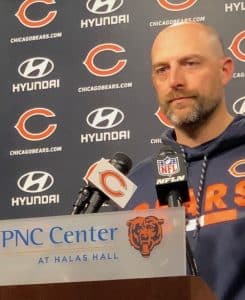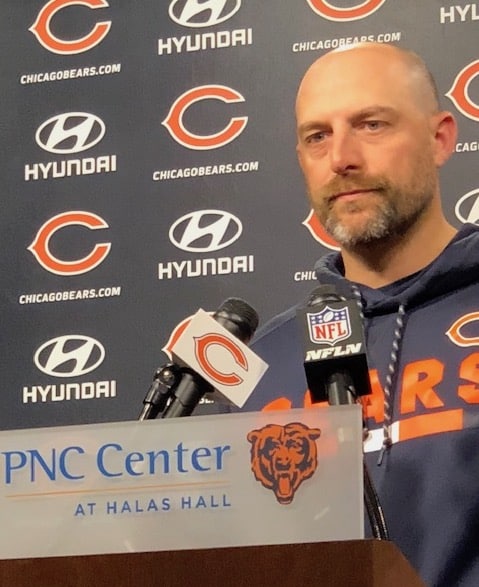 Quarterback Mitch Trubisky's availability will remain a question until he is on the field, playing at 100%. He did not practice Thursday and reportedly has yet to throw a football since sustaining his shoulder injury two weeks ago against the Minnesota Vikings. The odds of him returning this week grow slimmer by the days, which means we're likely to see Chase Daniel running the show for the second consecutive week.
Daniel was effective in his showing against the Lions, a start in which he went 27-for-37 for 230 yards and two touchdowns. He was in command of the offense throughout the game, and his familiarity with coach Matt Nagy's system was an apparent strength.
"I've had a lot of time with him in the quarterback room," Nagy said of Daniel. "We've talked through a lot of different plays so when you have that, those three years together, essentially, it's different than three years as a head coach. When you're in there every day with a guy, you know really where they're at."
CBs Janoris Jenkins and Curtis Riley, S Landon Collins and DE Olivier Vernon are the Giants' standouts on defense. Jenkins can go man-to-man with anyone in the league, and Collins is a balanced safety who is particularly strong at playing in the box against the run. Vernon, despite his struggles this year, has shown in the past that can get to the quarterback, so keeping him off Daniel will be an emphasis this week.
Nagy referred to the Giants' secondary as a strong suit of their defense, saying, "All four of them, they all kind of have their own ways of playing and we know that, so we want to try and attack them in our own ways that we think we can."
They are vulnerable, however, ranking 23rd in total yards allowed and 25th in points scored. The Bears' offense should find success similar to how they did against the Lions if Daniel takes care of the football and executes his coach's offense.
Follow on Twitter: @crbevins11 @radiomogul
Hear audio from Matt Nagy, Vic Fangio and LB Danny Trevathan