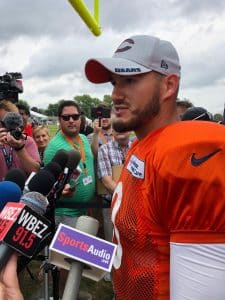 Finally, the discussion at 2018 Chicago Bears training camp wasn't about linebacker Roquan Smith. Sure there were some queries about the MIA first round draft pick, but the chatter and questions were about last year's top draft pick, Mitch Trubisky, and his progress in coach Matt Nagy's run/pass option offense.
Nagy also confirmed that Trubisky will take the field during the next preseason game at Cincinnati.
"He's watching a lot of film," says Nagy, "and on tape he's seeing how the offense fits against a particular  defense." He cautioned that his defense is seeing a lot of the same plays from the offense. He also praised his pupil on the even keel approach to each pass.   When asked about his comfort in relaying play calls to his offense, Nagy stated, "the key is coach to quarterback communication. If it's choppy, if it's not the same every time, then it's harder for him. It's got to be a routine." By season start he pledged to have a consisting calling scheme in conjunction with offensive coordinator Mark Helfich, adding, "we don't want him going up against the clock with fourteen seconds left in the clock with what we have in this offense."
Trubisky was asked about the new offense. "I think it's just another option for the defense to account for," he says, "and I think with me running the ball it will help our running backs and help our receivers get open, and hopefully take some pressure off our offensive linemen. Sometimes things break down and the defense gets a good blitz, but hopefully we'll be able to overcome that.  If I can scramble and make something happen, that's a good thing for our offense."
Quarterbacks coach Dave Ragone was also asked about Trubisky's progress. "He's a completely different person as an NFL player in year two," notes Ragone. "Now, especially being a starting player, unequivocally, of the Chicago Bears. He takes that very seriously. His mental approach, in terms of the understanding of what a leader is, and he needs to be himself as a leader, has been leaps and bounds different. There's a calm confidence with him and the players around him. He's pushing himself. I give him a tremendous amount of credit. This offseason it was a big project for him to go out there and understand that this is his team."
Listen to audio comments from Nagy, Trubisky, and Ragone.