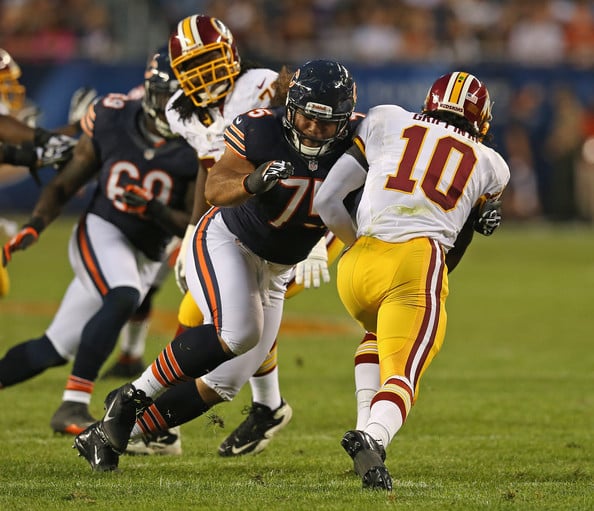 The Chicago Bears have seen the standings and are aware that the Washington Redskins have gotten off to a 1-4 start and are 0-2 at home. They have also seen the stat sheets and  have heard the critics say Robert Griffin III is not the same player since having surgery to repair a torn ACL this offseason. However, Lance Briggs believes the rust is wearing off for RG3, and last week's game was proof.
"I don't know what game you were watching last week," Briggs said when asked if he thought Robert Griffin III had lost the magic he had last year, when he had won the NFL's Offensive Rookie of the Year award. Briggs knows although the Redskins are struggling early, they still boast a very powerful rushing attack with RG3, and running back Alfred Morris, who has rushed for 377 yards on 72 carries for the year. Coach Mark Trestman also had comments on Morris, "I really like Alfred Morris… I like the fact that here is a guy who was drafted late in the sixth round, Mike Shanahan again doing what he's done with so many running backs. I think [Morris'] everybody's back."
Stopping the run has been a issue for the Bears of late, giving up over 100 yards last week to Brandon Jacob's, who made his first start since 2011. The struggles have been worse since losing starting defensive linemen, Henry Melton and Nate Collins, to season ending injuries. Starting middle linebacker, DJ Williams, was placed on the IR on Friday, which will mean it is now time for rookie second round pick, Jon Bostic, to step into the lineup and try to make a difference. Bostic's first start will be challenging, but fellow linebacker Lance Briggs thinks he will be able to handle it. "I told him once you get in the game you just read and react, you allow your athletic ability to take over," replied Briggs, when asked what advice he had given to Bostic about his first start.
Offensively, the Bears quarterback, Jay Cutler, has a score to settle as he faces cornerback DeAngelo Hall who had intercepted him four times in their last meeting. One of the interceptions ended in a 92-yard touchdown return, resulting in a 17-14 Redskin win. When asked about Hall at Thursday's press conference, Cutler did not show any fear or hype the rivalry at all. Cutler simply said, "he is just another player." Whether or not Cutler wants to admit it, Hall will be a tough matchup for wide receiver Brandon Marshal, who had a bounce back game against the Giants, grabbing a season high 9 catches for 87 yards and two touchdowns.
Coach Mark Trestman knows this is a big game considering it will show where the Bears stand as the race for the NFC North starts to heat up. "We see things each and every week that tell us we cannot just be good, we can be very good," Trestman said, "But we also know there's a lot of work ahead."
Podcast: Play in new window | Download (12.8MB) | Embed