Includes an audio interview (see below)
There is a constant barrage of press releases from publicists touting album releases, tour appearances, and films. Every so often one catches my attention, most often because its a rock pioneer, such as Alan Parsons, whom I interviewed in October of 2012.
This time, however, it was for an indie artist appearing at one of the local music venues in Chicago. So naturally, I listened to the sample provided by the PR agency, and really liked what I was hearing.
Austin Hartley-Leonard grew up in suburban Chicago, was classically trained in the cello, and parlayed that skill to study the instrument in college. Later, he relocated out west and made the rounds of the singer-songwriter circuit in Los Angeles.
Despite a growing fanbase Hartley-Leonard found himself in what he describes a "very dark place."
It's not often that artists can shed their musical skin and completely re-invent themselves, but Austin certainly has. He collaborated with producer Brad Gordon to create a "uniquely atmospheric, retro influenced indie pop-rock sound."
The result is Broken Anchor, named for one of the early compositions, "Broken Anchor Blues." The music is lush and layered with a good deal of Phil Spector-like craftsmanship. He says, "I never set out to craft an album like this. I am as surprised as anyone else, considering what I used to play."
Hartley-Leonard was kind enough to talk about the new band and his music before his appearance at the Empty Bottle in Chicago. When asked about the Southern California influence on his music, he replied, "It's being in LA, being close to the water. The lifestyle influences the music more than anything else. Living by the water, and being near the beach, and being near the canyons. I'm not over my honeymoon being in LA. I feel lucky to be there when I'm driving up the PCH [Pacific Coast Highway.] It never gets old to me. I'm from Chicago."
He also favors the comparisons to Wilco, Fleet Foxes, and Animal Collective. "I love those bands," he notes. "If I could sound like those guys I'd be happy. Those are certainly guys I looked up to. I remember seening Fleet Foxes in a club. I was lucky I got to see them then. You can't see them in a small venue anymore."
Hartley-Leonard took a smart approach to his do-over by releasing three EP's over the past year. "Starting a new project from scratch is tough so I decided by release stuff in little three song EP's, I'd have something to talk about," he says.
"Three songs, print them up; 'Here's Broken Anchor volume 1.' No one is ever going to listen to your record from an unknown project, like here's 12 songs – take a look. No one really has the patience for that anymore. And beyond that, If I had made 12 songs 18 months ago, instead of three songs, those 12 songs I wouldn't even play anymore. I was still learning about what this sound is and how I was crafting music; how I was writing music, so I was like here's three. I'm proud of these three, let's put them out. OK, here's these four, let's put them out. Here's three more, let's put them out.
"So we had three volumes. And even with that, we don't play some of those songs anymore. Out of those ten songs, we don't play three of them anymore. They were really good building blocks and baby steps to the songwriting I'm doing now."
Armed with his best material, Hartley-Leonard set out for a tour, only to have his drummer/percussionist quit on him.
Undaunted, he hastily rearranged part of the tour and recruited some old Chicago friends to play bass and drums. I would have never guessed that the trio had precious little time to rehearse his current material, he had not told me before the performance. The two sidemen were right in step, and sure sounded like a tight outfit during the forty minute show that night.
The set included a cover of the Harvey Danger song "Flagpole Sitta," slowed down in a "minimalist" style, very reminiscent of the treatment that Michael Andrews and Gary Jules did of "Mad World" by Tears for Fears. The video is quite engaging.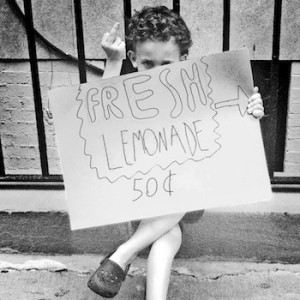 The best songs are being released as an album called "Fresh Lemonade" later this summer. The standout tracks include the leadoff cut "Always, " "Dear Diary," "Never Leave Me Alone," and "Leave the Light On," which Hartley-Leonard describes as, "about having an affair. I didn't want anybody to know, I think she kinda had a thing with someone, and I didn't know how serious that was. Generally I'm pretty private and I do not like people knowing what I'm doing, so it was a song about that. It was like me driving the long way to get to this gal's place."
Here's the complete audio interview:
[jwplayer mediaid="9199″]
More links:
Band home page: BrokenAnchorMusic.com
Hear some songs on SoundCloud
YouTube video for Leave the Light On