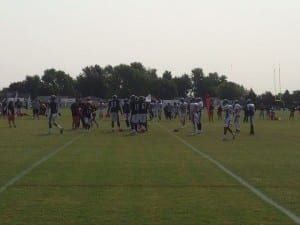 Lance Briggs would obviously like to win a Super Bowl, who wouldn't? He would also like to play in another Pro Bowl this season as well.
"Everybody wants to play in a Super Bowl, its been awhile since I have played in a Pro Bowl," Briggs said after practice on Thursday when asked about this seasons expectations. He was then asked if he thought the Pro Bowl was a realistic goal.
"I don't know. I've lost a couple of steps," Briggs said, "Now sometimes I have to fall into a tackle. If I'm lucky, a tackle will fall, and I'll put my hand on him and get credit for it. That's where I'm at in [this] stage of my career."
All joking aside, Briggs has been one of the franchises all-time great linebackers and all around football players. He made seven straight pro bowls between the 2005-2011 season and has become a fan favorite in Chicago, a city in which he has made home.
"I'm a true Bear. This is Year 12. I've given my blood, sweat and tears and my heart to the city and playing for this team," Briggs said. "When it's all said and done, I'll retire a Bear."
After playing along-side Brian Urlacher for ten seasons, Briggs took over the play calling duties for the first time last season. Briggs had a tremendous start to the year, recording 75 tackles, two sacks, and two forced fumbles in the first seven games of the season. However, he suffered an injury October 20th against Washington and would miss eight weeks with a shoulder fracture.
Head coach Marc Trestman knows that if the Bears hope to improve defensively, they will need Briggs at full speed. "If Lance is playing at full-strength the way he started last season, we're going to be a much better football team all around," Trestman told the media Friday.
With a healthy Briggs, the Bears will have one less position battle to worry about this training camp, now if they could just figure out who will be playing next to him.