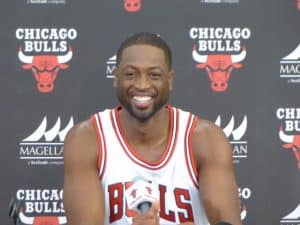 Its a new season in Chicago, and with it comes some new faces, Rajon Rondo has replaced Derrick Rose, Robin Lopez has replaced Joakim Noah, and of course, Dwayne Wade signed a 2 year $47.5 million with the Bulls to be their new starting shooting guard.
Yes, I am not used to him in this uniform yet either.
Fred Hoiberg enters his second season as Bulls head coach with over 50% of his startng lineup from last season gone? So the question now becomes of course, is this team better?
The Good:
It seemed pretty clear last season that after Joakim Noah went down that the Bulls were lacking in effort. After Noah was lost for the season with a dislocated shoulder on January 15, the Bulls season completely changed. After defeating the Pistons to move to 24-16 on the season, the Bulls went 18-24 to finish the season 42-40, 2 games behind Detroit for the 8th spot in the East.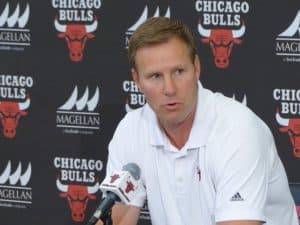 The Bulls clearly lacked leadership in the locker room, amid reports of Joakim Noah and Jimmy Butler reported feud. Now with him and Rose in New York, Butler now assumes his role as the leader of this team.
With the additions of Rondo and Wade, reports are that there has already been a change in the culture at practice this season. Rondo and Wade bring accountability and a winning culture to the team that has Jimmy Butler excited to start the season, "I'm excited because there is so much growth that I can handle in that aspect of the game."
"When you look at what Wade has done for his career, a future Hall of Famer, I think that I can model the way I do things around him."
Fred Hoiberg has been taking a step back in practice and allowing Wade, Rondo, and Butler to call out guys in practice, cussing guys out when they miss assignments.
While not the scorer Rose was, with the addition of Rondo, the Bulls add the NBA's assist leader from last season, a stat no Bulls player has lead the NBA in since Guy Rodgers in the Bulls inaugural 1966-67 season.
The Bad:
See how short that Good Portion was? Where to begin, well first, the Bulls have no three-point shooting, or at the very least not a whole lot. After losing Pau Gasol in Free Agency and trading Mike Dunleavy to the Cleveland Cavaliers, the Bulls enter the season with only one player (Doug McDermott) who shot over 40% from three last season. Though the Bulls were able to draft Denzel Valentine who shot 44.4 percent last season at Michigan St., outside of Valentine and McDermott, the only other consistent three point shooter the  Bulls have is Nikola Mirotic, but there is more to be concerned with at the moment with Mirotic.
After winning Rookie of the Month averaging 20.1 PPG and 7.0 RPG in the month of March under Tom Thibodeau, Mirotic has struggled to find a role in Hoiberg's system and has proven to be extremely inconsistent, and during the preseason so far this year, Mirotic's consistency issues have continued, shooting just 2-14 in his first two games.
There is also the question of defense, after losing Joakim Noah last season, the Bulls went from 4th in the NBA in defensive rating to 15th by season's end. There is also the question of how will the players fit into a system that Hoiberg has made famous through design as a 3-point shooting offense as that concern was shown last season with the Bulls finishing with an offensive rating of 102.1, which ranked 25th in the NBA.
Prediction: 
While this team does have some talented players, the pieces just don't really fit together. While I do think Wade and Butler will have good chemistry together, the lack of 3-point shooting and defensive problems this team has remain a major problem.
Given how weak the Eastern Conference is, I could still see this team making the playoffs, but I do not see them going anywhere other than a first round exit.
Record: 43-39, 7th Place in the East